January 18, 2013
Sommers takes down 200 butterfly record at Grinnell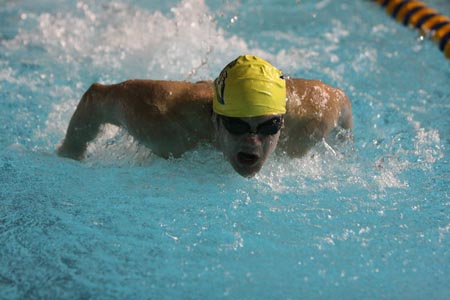 Freshman David Sommers took down a 23-year old school record in the 200 butterfly when he swam 1:57.34 in the preliminary round of the Grinnell Invitational on Friday, January 18. He eclipsed Pat Donovan's 1989 record of 1:58.81. In the final, Sommers won the event with a time of 1:59.34 and led a one-two-three Augustana sweep.
GRINNELL, Iowa - Freshman David Sommers' (Westlake HS, Thousand Oaks, Calif.) school record performance in the 200 butterfly was the top performance for Augustana on Friday, January 18 at the first day of competition at the Grinnell Invitational in Grinnell, Iowa. Sommers led a one-two-three sweep by the Vikings in the event and helped Augustana finish the day in third place in the team standings with 481 points.

Sommers recorded a time of 157.34 in the preliminary round and in the process took down a school record that had been standing for 24 years. The old mark was 1:58.81 set by Pat Donovan in 1989. In the final, Sommers swam a time of 1:59.34. Senior Chris Greaves (Morris HS, Morris, Ill.) placed second in 2:06.16 and junior Justin Reppy (Oswego HS, Oswego, Ill.) took third in 2:08.02.
Sommers also handled the third leg in the 400 medley relay and the team of sophomore Aaron Holt (Mount Vernon HS, Mount Vernon, Ill.), freshman Felipe Hernandez (United Township HS, East Moline, Ill.) and Greaves placed second with a time of 3:42.20. He took care of the third leg on the runner-up 800 freestyle relay team that clocked 7:22.09 and was joined on that unit by junior Daniel Hinck (Harlem HS, Loves Park, Ill.), sophomore Michael Duy (Marmion Academy, Aurora, Ill.), and Reppy. Sommers also tossed in a seventh place finish in the 500 freestyle with a time of 5:06.67.
Reppy placed second in the 500 freestyle with a 4:51.69 clocking and Holt took second in both the 200 individual medley (2:03.77) and 100 backstroke (:54.08). Sophomore Josh Wielenga (School of Environmental Study, Apple Valley, Minn.) scored 328.10 points and was second in the three meter diving event. The 200 freestyle relay team of Holt, Greaves, Duy and Hinck began the meet with a third place finish in a time of 1:29.55.
Freshman Adam Bernardi (Rockford Boylan HS, Belvidere, Ill.) placed fourth in the 200 individual medley in 2:04.29 with Hernandez taking fifth in 2:04.66. Hernandez was also fifth in the 100 backstroke in :56.91 and Greaves took eighth in :57.80. Duy placed fourth in the 500 freestyle with a time of 5:02.65. In the 100 freestyle Hinck was fifth (:49.89) and Duy was seventh (:50.10).
Grinnell leads the men's competition with 595.5 points while Gustavus Adolphus is second with 508.5 and Augustana is third with 481. Luther (357), Macalester (131), Simpson (123) and Coe (64) round out the field.