A New Minor in Ethics: The Right Thing to Do
In 2009, Timothy Faith-Rosley '11 asked his Christian Ethics professor, Laura Hartman, why Augustana didn't offer a minor in ethics. She wondered the same—and was told by her department chair, Dan Lee, that the college used to offer an ethics minor. Laura decided to bring it back.
And so began a three-year collaboration between the departments of religion and philosophy to draft a curriculum, take their motion to their academic division, revise, put it before the EPC (more revisions), present it to the Dean of the College (more tweaks), get it approved by the Faculty Senate, and finally offer a 21-credit minor in ethics at Augustana.
While an ethics program is rare among colleges in the Midwest, Laura thinks the study of ethics, which concerns the study of right and wrong, good and bad—and the reasoning behind such judgments—is highly appropriate for students in any discipline. Students in public-focused fields such as business, education, law or the health professions are excellent candidates for an ethics minor.
"When you deal with the public, you're dealing with people who are vulnerable and valuable, and who deserve to be treated ethically," she said.
"This is a society that is changing, and with every new change there are new voices and new ethical questions," she continued. "Whenever new technology is introduced, there are new ethical questions. In class yesterday we discussed Facebook. Who is appropriate to 'friend'? What is appropriate to share? What are the legal issues?"
Future employers of students who minored in ethics will know these graduates have the experience to address such questions rationally and readily. Although Timothy graduated too soon for an ethics minor, Lillian Pickens '14 added the minor this week. Lilli chose a major in religion specifically because of her interest in ethics.
"I'm thrilled that the minor incorporates both the religion department and the philosophy department, because it provides different approaches and perspectives," she said. "I would encourage more students to consider the ethics minor, because it addresses challenging questions in our society, and thus provides many options for personal growth."
Working the Plan: Meet the Chicagoland Office
Strategic Imperative 2: Adopt innovative practices for recruitment and retention
A first priority of Imperative 2 in the Affirm, Assure and Assess strategic plan is to "Strengthen the college's outreach and reputation in the Chicago area to sustain our place in our primary market even as we extend our geographic reach."
Augustana's new Chicagoland Office hosted its first event in early December. Director of Admissions-Chicago Region Courtney Wallace, and Assistant Director of Admissions Jenna Muench hosted more than 65 people in the Lombard office, setting the stage for a location already paying dividends for Augustana.
With more than 50% of our targeted prospective students living within an hour of Lombard, the Chicagoland Office offers a convenient place for families to connect with Augustana. The office has hosted several guidance counselors (important influencers) for meetings, and one counselor brought high school students to interview. In the past, Augustana counselors met students at their high schools or a local Starbucks. Now, a welcoming office with an Augie Choice banner, photos of campus, Augie brochures, and student and alumni profiles are at Courtney's and Jenna's fingertips, creating a more worthwhile impression of our brand.
Courtney touts the office as a distinct advantage. "This convenient location and the opportunity to demonstrate the quality environment students will come to expect from Augustana is a tremendous plus as we compete with colleges in the Chicago area," she said.
Besides admissions, other Augustana offices have taken advantage of the Chicagoland Office. Coaches have hosted events and meetings, bringing 125 additional visitors. The Career Center arranged current student interviews with Chicago businesses. The alumni board is considering the space for future meetings. Overall, the Chicagoland Office reflects the professionalism and pride we hold as hallmarks of Augustana. If you're planning to be in the area, contact Courtney or Jenna to arrange a visit.
Field Notes
Drew Barnes '14 is manager of the Augustana Photo Bureau and one of the photographers to be represented at Augustana Sights and Sounds, the annual show of student photography, videography and music performances at Bucktown Center for the Arts, Davenport, 6-9 p.m. on Friday, January 25. He describes the intensive project that combines his fascination with stars and photography.
This year I took on the biggest project of my photography career—"Augustana Star Trails," which highlights campus icons in the moving night sky. I've always had an interest in space, fueled by two astronomy classes I've taken at Augustana. Star trail photography often is done in locations with little to no light pollution, so I knew completing this project would be a challenge given the illumination of the Quad Cities.
Star trail photography utilizes long exposure, or a technique called "stacking" (overlaying multiple exposures to display long periods of time), to capture the motion of the stars in the night sky. Stars appear on film as long streaks due to the rotation of the Earth. The pattern of these streaks is affected by the position of the photographer and the direction in which the camera is pointed. In a photo pointed directly at the poles, stars will appear as concentric circles because the poles are stationary in relation to the Earth's rotation. Anywhere away from the poles, streaks will appear straight or slightly bent.
Another phenomenon apparent in these photographs is the different temperatures of stars, evident by their different colors. Blue stars are hotter than red stars.
When photographing stars, or the night sky in any fashion, there are many things to consider: humidity, air pollution, temperature, moon phase and weather conditions, in addition to light pollution. Therefore, this project was not just a "go out and shoot" project. First, I researched the moon phases and found the week with the least amount of light: the "new phase." As the week approached, I watched the weather for clear skies and low temperatures. Once I had chosen the days, I stumbled across a coincidental occurrence of the Geminid meteor shower, which heightened my excitement.
Preparation for each photo shoot started with dressing warm; by the end of each shoot I was outside in freezing temperatures for about five hours. Before I left, I also set the basic settings for my camera: a very low ISO (100), white balance set to Tungsten (this helps cool the sky), aperture wide open (f/1.4), and the intervalometer (device that counts intervals of time) to capture a predetermined number of photos based on two hours of shooting, taking into account my shutter speed.
Each composite contains approximately 450 photos. Once I compose my shot and check my focus and exposure, I start the intervalometer and watch. In post-processing, I stack the images using a specialized program, then check exposure, colors and any distracting elements using Lightroom software.
From beginning to end, each completed star trails photo takes approximately six hours of work. In addition to the three photos linked above, photos of the Thomas Tredway Library and Old Main will join my collection at Augustana Sights and Sounds on January 25.
New Face on Campus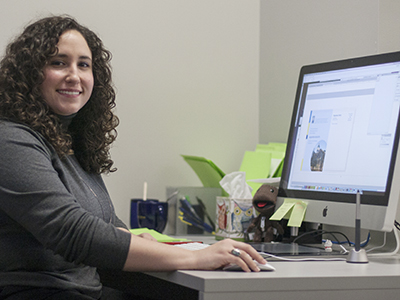 Alejandra Salaverria, Graphic Designer
B.A., fine arts, graphic design, St. Ambrose University
Alex, as she likes to be called, joined the Communication and Marketing team this month. She worked previously for the Figge Art Museum in Davenport and at Group O in Milan. Her work at Group O involved quite a bit of digital advertising design for corporate clients like Verizon.
When she's not designing on her Mac, Alex likes to paint with encaustics. This combination of beeswax and pigmented oils allows the artist to create pieces rich with complex textures and finishes. She finds that working with encaustics makes her a better designer.
"I think I've become more skilled at rendering in the digital design world because of my experience as an artist working in different forms of artistic expression," she noted.
Alex initially was attracted to the idea of working at Augustana because of the community she sensed among a number of alumni and friends of the college she has met over the years. She lives in Moline with her husband Thomas Beauchamp and their miniature Schnauzer, Ember. On the weekends, they like to play Frisbee golf at several parks in the Quad Cities.
Alex speaks as much Spanish every day as she does English. She was born in Argentina, and though she's lived nearly all of her life in the Quad Cities, her family's ties to their Argentine heritage remain strong. Dad still cooks Asado on the Parrilla-barbeque, and her mom's specialty is Rougine Duona, a kind of Lithuanian bread. Alex's mom is Lithuanian, and she's teaching Alex how to bake the dark and dense rye bread that reportedly makes the world's best grilled cheese sandwich.
In the Works
Director of Human Resources Laura Ford authors a perennial series of information and wisdom pertaining to being an employee at Augustana College.
During a three-day period this week, we hosted seven open forums to discuss recommendations from the Retirement Plan Redesign Task force. More than 150 attended and engaged in healthy dialogue with varied opinions on the proposed changes. Since August, this cross-functional task force has worked with the higher education consultants from Aon Hewitt to study retirement preparedness, trends in higher education plans and how the Augustana community compares. As many heard, there are some interesting differences between Augustana's current plan and what is occurring among our peer institutions. You can access the full version of the presentation slideshow on the HR website.

• Of the higher education institutions that offer a retirement benefit (26% offer nothing at all), 79% have some form of a matching plan. Only 21% are structured as Augustana is currently, with a non-matching contribution.
• Currently, only 31% of Augie employees participate in our voluntary plan, compared with a 65% average participation within higher education plans.
• For those who do participate in our voluntary plan, the average savings of 6.4% of salary is higher than the higher education average of 5.9%.
• For most everyone, the current 10% non-matching contribution will not provide adequate retirement savings.
The task force's proposal suggests a move from a 10% college contribution with 0% matched savings, to a 7% college contribution with a 50% match on the first 7% of employee earnings. In addition, the task force proposed a minimum match level to provide an increased level of benefit for those at the lower end of the earnings scale. The feedback gathered was robust and varied, ranging from positive support to strong opposition. To summarize some of the most frequent comments:
• Can we create a transition plan, so this is implemented in a manner that doesn't require such a major change from those currently not saving within the Augustana plan?
• Some believe the college will save money as a result of these changes. Some attendees raised the issue of transparency, recommending that the college track the actual versus expected cost. If cost is indeed less than expected, then attendees expect that the savings should somehow be reflected in future retirement plan design changes or other benefits.
• Do we really need to implement a match—can't we just do more education or a voluntary plan?
• The issue of Roth savings came up in several of the sessions. "If you want me to save in this new plan, then I might want to use a Roth basis, as I am now with my Roth IRA."
• "Can we provide a few simple examples of the impact of pre-tax 403(b) savings on a person's take home pay?"
• Some expressed concern that these changes imply that the college's retirement investment alternatives are better than other investments people may be using currently.
This level of feedback was helpful as the task force works to finalize a recommendation. A change of this magnitude will go through many phases as we work through concerns and logistics before implementation. We anticipate the earliest a plan change might occur would be in the first quarter of 2014. The next step will be a final recommendation from the task force based on the feedback, and sharing the information with all on campus.
Thanks again to all of you who attended these sessions. All task force members are happy to discuss this issue with you. Task force members include Sheri Curran, David English, Bill Estes, Laura Ford, Darlene Link, Mindy Mull, April Peterson, Tammy Showers, David Snowball and Matt Walsh.
From the Cabinet
Richard Priggie, College Chaplain
You will find that help will always be given at Hogwarts to those who ask for it.—Dumbledore to Harry Potter, Chamber of Secrets, p. 264
The large pin-oak tree alongside our driveway has been gradually shedding its limbs in response to high winds and heavy rain. Since we tend to park one or more of our cars in the driveway, this is not a happy phenomenon. One car was "totaled" a couple of years ago when a large limb fell on it.
When a tree company was in the neighborhood some weeks ago, my wife asked them to give a quote on a substantial trimming of that tree. Last week Janice called that tree trimmer to say that we were ready to have the work done and to ask him to come by again to summarize the project.
"I'm about ten minutes away," he replied. "I'll be right over."
This man's appearance fits my stereotype of one who works in trees: a bit rough-and-tumble and unshaven, an outdoors type who appears to me unlikely to feel at home in the academy, or in church for that matter. It was a surprise, then, that his first words upon greeting Janice last week were, "Would you consider yourself a spiritual person?" "Why, yes," she replied.
"It's just that I got your call this morning when I was in the doctor's office," he said. "I haven't been feeling well, so I decided to get looked over. The doctor told me I have to have a test that costs $400. I'm in business for myself and, well, I haven't been making enough to pay the premiums for health insurance for myself and my few workers. I can't afford $400 right now, even for a test that I need to have.
"And then you called," the man told Janice. "And the quote that I had given you for the work on your tree... was $400."
It turns out that help will be given... not just at Hogwarts... and not just to those who ask for it. Count on it.
Seen & Heard
"Tradition is the wind at one's back."
—Deborah Dakin (music), paraphrasing Cornel West: It is vital to situate yourself in a tradition, in a larger narrative that links the past to the present.... We cannot but be moved by their standards of vision and courage. They are wind at one's back.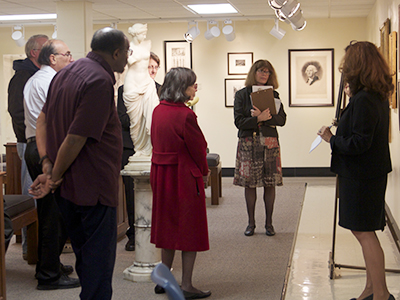 On January 12, art history and music faculty offered a tour of the exhibition "Liberal Arts through the AGES" and discussed the relationship of music and art.
Acknowledge is published by the Office of Communication and Marketing at Augustana College in Rock Island, Illinois. Contact Beth Roberts, editor. Photos in this issue were contributed by Marla Alvarado-Neuerburg, Drew Barnes '14, Daisy Hoang '14, Faye Marek '14 and Kristin Walden '16 of the Augustana Photo Bureau.