January 16, 2013
Second half surge leads to win at Millikin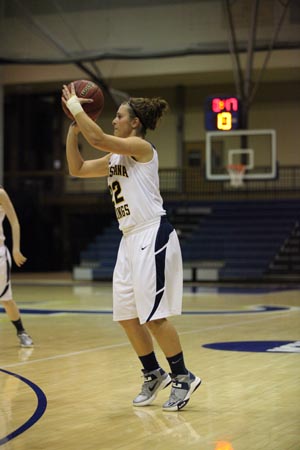 Senior Gianna Pecora scored 19 points and grabbed eight rebounds in Augustana's 69-55 victory at Millikin on Wednesday, January 16.
DECATUR, Illinois - After trailing by a single point at halftime, Augustana responded with a solid performance in the second half and the result was a 69-55 road victory at Millikin on Wednesday, January 16 in Decatur, Illinois. First year head coach Mark Beinborn's team used a 23-7 run over the first 10 minutes of the second stanza to take control of the game.

That led to a 51-36 advantage with 10:44 to play and the Vikings' lead never dipped below double digits again. Junior Jessica Baids (West Chicago HS, Carol Stream, Ill.) got things started coming out of the break with a basket to put Augustana ahead 30-29. That was a lead that the Vikings would never relinquish.
Junior Molly Etheridge (Normal Community HS, Bloomington, Ill.) scored to make it 32-29 and junior Amy Hicks (Rockford Christian HS, Rockford, Ill.) drilled a basket to bump the lead to 34-29. Etheridge scored her second basket of the half at 16:32 for a seven point lead (36-29) and junior Chaney Tambling (Dwight HS, Dwight, Ill.) nailed one free throw for an eight point edge (37-29) at 15:51.
Millikin cut the advantage to five (37-32) on a conventional three-point play by Kelsey Going at 15:29 but that was as close as the Big Blue would come.
Etheridge led the way for Augustana with 27 points and she also grabbed four rebounds with two assists and two steals. Senior Gianna Pecora (Downers Grove South HS, Darien, Ill.) dropped in 19 points and pulled down eight rebounds while Hicks added 10 points and a game-high nine rebounds. She also had a game-high six assists and added a blocked shot and a steal. Tambling pulled down eight rebounds as Augustana had forged a 47-45 advantage on the backboards.
In the second half the Vikings shot .419 (13-31 from the floor but the key was on the defensive end where they stifled Millikin to the tune of .257 (9-35) shooting in the final 20 minutes. For the game the Big Blue shot just .290 (18-62) from the floor and made just two of 15 three-point field goals.
Millikin's only player in double figures was Jasmine Johnson, who scored 13 off the bench.
Augustana is now 6-9 overall and 2-3 in the College Conference of Illinois & Wisconsin while Millikin drops to 5-10 and 0-5. The Vikings host Elmhurst at 5:00 p.m. on Saturday, January 19 in the Carver Center.