January 16, 2013
Red hot Wheaton hands Vikings third straight loss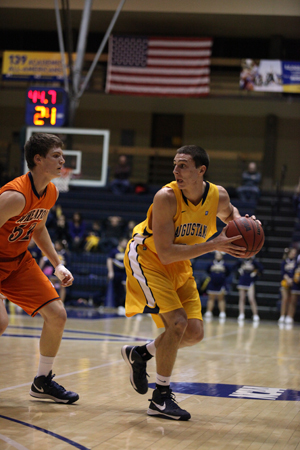 Ben Ryan led Augustana with 17 points and nine rebounds Wednesday night, but the Vikings fell to Wheaton 86-67 at Carver Center.
ROCK ISLAND, Ill. - 20th-ranked Wheaton hit 16 of 21 second-half field goal attempts and rolled to an 86-67 win over 23rd-ranked Augustana at Carver Center Wednesday night. The Vikings suffered their third consecutive loss to a ranked opponent, falling to 12-4 overall and 2-3 in the CCIW. The visiting Thunder improved to 13-3 overall and 3-2 in the league.

Wheaton took a 37-32 halftime lead behind the three-point shooting of Michael Berg, who hit all three of his attempts from beyond the arc and Michael Kvam, who was two for two. Augustana freshman Ben Ryan (Washington HS, Washington, Ill.) had 11 of his team-high 17 points before intermission and sophomore Nic Hoepfner (United Township HS, East Moline, Ill.) came off the bench to score all 10 of his points in the opening 20 minutes.
Baskets by senior Brandon Kunz (Lake Zurich HS, Lake Zurich, Ill.) and Ryan to open the second half cut the deficit to 37-36, but Kvam answered with a three to push the Wheaton advantage back to four.
Another Kvam bucket made it 48-41 with 15 minutes remaining, but Viking freshman Jawan Straughter (Plainfield East HS, Bolingbrook, Ill.) nailed a jumper from the left corner and followed with a tradition three-point play out of transition to get Augustana within two at 48-46.
However, over the next five minutes, Wheaton went on a 19-3 behind eight more points from Kvam to put the game away.
Kvam went eight of 11 from the field and five of six from beyond the arc to finish with a game-high 21 points off the bench. Brayden Teuscher added 19 and Berg 11, all of which came in the first half. Ryan grabbed a game-high nine rebounds for Augustana.
The Vikings will attempt to bounce back on Saturday, January 19, when they host Elmhurst at Carver Center. Tip-off is scheduled for 7:00 p.m.