January 12, 2013
Vikings edge Monmouth for Sol Butler title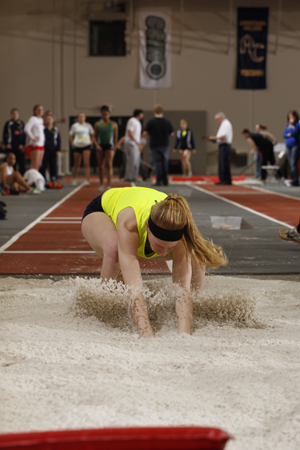 Sophomore Astin Moravek won the long jump at took second in the triple jump Saturday at the University of Dubuque's Sol Butler Invitational.
DUBUQUE, Iowa-Behind five individual event winners, coach Fred Whiteside's Augustana women opened the 2013 indoor track & field season by besting four other teams at the University of Dubuque's Sol Butler Invitational Saturday. The Vikings' total of 165.5 points bettered the 151 compiled by second-place Monmouth.

Sophomore Astin Moravek (Riverside-Brookfield HS, Riverside, Ill.) won the long jump with a mark of 16' 4 ½" and took second with a leap of 33' 5¼" in the triple jump. Other event winners for Augustana included junior Taelar Hillyer (Alleman HS, Bettendorf, Iowa), who cleared 10' 11¾" in the pole vault, senior Sarahbeth Jones (Warren HS, Glen Allen, Va.) with a 10:25.65 in the 3000, senior Kirstillyn Pohlman (Zion-Benton HS, Winthrop Harbor, Ill.) with a 3:21.22 in the 1000 and junior Kate Benge (Pleasant Valley HS, Bettendorf, Iowa), who took the 600 in a time of 1:43.71.
The Vikings displayed excellent depth in several events. Led by freshman Anna Walsh (Mahtomedi HS, Mahtomedi, Minn.) they took places two through five in the 400. Walsh finished in 1:08.58, followed by classmates Madeline Gannon (Marist HS, Oak Park, Ill.), Lia O'Connor (St. Francis HS, Naperville, Ill.) and Karina de La Rosa, who ran times of 1:15.83, 1:23.43 and 1:26.46, respectively. Another freshman, Annie Martines (St. Charles East HS, St. Charles, Ill.) was second in the 55 hurdles with a clocking of :09.38, while junior Johanna Schnitzler (Downers Grove South HS, Woodridge, Ill.) ran a :09.763 to edge freshman teammate Ashley Jensen-Anderson (Rock Island HS, Rock Island, Ill.) by four one-thousandths of a second for fourth place.
Junior Liana Beauchamp (Genoa-Kingston HS, Kingston, Ill.) recorded a 48' 4½" mark to take second in the weight throw. Augustana took second in 4x400 and 4x800 relays. Martines, Benge, freshman Stephanie Sorrentino (York HS, Elmhurst, Ill.) and Schnitzler finished the 1600 relay in 4:18.46, while senior Jennifer Prazak (Naperville North HS, Naperville, Ill.), Benge, sophomore Lorraine Stamberger (La Moille HS, La Moille, Ill.) and senior Annie Heifner (Oregon HS, Oregon, Wis.) ran the 3200 relay in 10:09.80. Martines, Jensen-Anderson, Sorrentino and Schnitzeler finished fourth in the 4x200 relay with a time of 1:54.74.
Freshman Rachel Rodriguez (Mahomet-Seymour HS, Mahomet, Ill.) ran a third-place 6:05.66 in the mile. Sophomore Stephanie Burbidge (Palatine HS, Palatine, Ill.) and juniors Amanda Pease (United Township HS, East Moline, Ill.) and Emma Grandgeorge (Sycamore HS, Sycamore, Ill.) were fourth, fifth and sixth, respectively, with times of 6:05.74, 6:10.68 and 6:11.62.
Other point-winners for the Vikings included Grandgeorge (3:31.16) and Rachel Rodriguez (3:38.78), who were third and fifth behind Pohlman in the 1000 and Stamberger (1:50.54), who was fourth behind Benge in the 600. Junior Kelsey Stockert (Peoria Notre Dame HS, Mapleton, Ill.), sophomore Lizzie Lundine (Willowbrook HS, Villa Park, Ill.) and freshman Hana Lobsinger (Wheaton-Warrenville South HS, Wheaton, Ill.) finished fourth through sixth behind Jones in the 3000, running 11:19.82, 11:40.53 and 11:42.74, respectively. Freshman Danielle Engel (St. Charles North HS, St. Charles, Ill.) was fourth in the pole vault, clearing 9' 6¼", while senior Taylor Tjardes (Gibson City-Melvin-Sibley HS, Gibson City, Ill.) was sixth at 8' 6 ¼". Sophomore Lauren Polizzi (Crystal Lake South HS, Crystal Lake, Ill.) went 32' 2 ¼" to take fifth in the triple jump and junior Lauren Hoffman (Wheaton North HS, Winfield, Ill.) was fifth in the high jump, clearing 4' 11".
Host Dubuque finished third in the team standings with 84 points, followed by Loras (78) and Coe (36.5).
The Vikings are back in action on Saturday, January 19 at the Midwest Invite in Monmouth, Illinois. Competition is scheduled to start at 10:45 a.m.