January 12, 2013
Ferguson's three wins not enough in Luther loss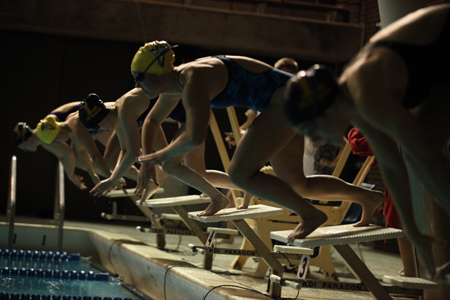 Junior Hillary Ferguson won the 50 and 100 freestyle events and anchored the 200 freestyle relay to victory on Saturday, January 12 in Augustana's 146-97 loss at home to Luther.
ROCK ISLAND, Ill. - Despite the fact that junior Hillary Ferguson (Waubonsie Valley HS, Naperville, Ill.) had a hand in winning three events, Augustana fell for the first time in the 2012-13 women's swimming & diving season. The Vikings lost to Luther 141-97 on "Senior Day" in the Carver Center Pool on Saturday, January 12.

Ferguson won the 50 freestyle in :25.55 and the 100 freestyle in :57.12 and anchored the 200 freestyle relay to a winning time of 1:44.00. Joining Ferguson on the victorious 200 freestyle unit were senior Alexandra Piper (Coal City HS, Coal City, Ill.), senior Molly Clennon (Benet Academy, Naperville, Ill.) and freshman Emma Novak (Eden Prairie HS, Eden Prairie, Minn.).
Junior Helen Myers (Pecatonica HS, Rock City, Ill.) won the three meter diving with 228.98 points and placed second in the one meter diving with 204.75 points.
Novak placed second in the 1000 freestyle (11:21.07) and 100 butterfly (1:04.65). Clennon took second in the 200 freestyle in 2:06.79 and third in the 500 freestyle in 5:42.33. Piper was second in the 50 freestyle with a time of :26.49.
Senior Emma Regnier (Grayslake North HS, Lake Villa, Ill.) swam to a second place finish in the 200 individual medley with a time of 2:23.32. Freshman Adelia Clark (Linn Mar HS, Marion, Iowa) was third in the one meter diving with 189.23 points.
The 200 medley relay team of sophomore Laura Pemberton (Fremont HS, Fremont, Neb.), freshman Jordan Johnson (Appleton North HS, Appleton, Wis.), junior Danna Jensen (Dundee Crown HS, Algonquin, Ill.) and Jamie Graf (Lincoln-Way Central HS, Downers Grove, Ill.) took third in 2:05.86.
Augustana will compete in the Grinnell Invitational in Grinnell, Iowa on Friday, January 18 and Saturday, January 19.