January 12, 2013
17th ranked Vikings fall at number one North Central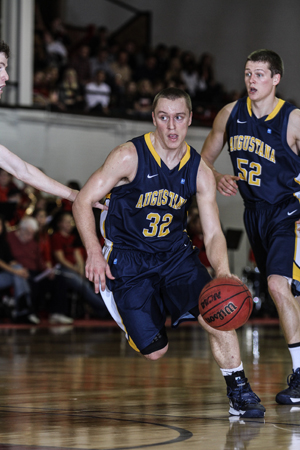 Sophomore Danielius Jurgutis scored a team-high 13 points in 17th ranked Augustana's 59-46 loss at number one North Central on Saturday, January 12.
NAPERVILLE, Ill. - Hampered by poor shooting from the field, 17th ranked Augustana dropped a 59-46 decision at number one North Central on Saturday, January 12 in College Conference of Illinois & Wisconsin action in Naperville, Illinois. The Vikings connected on just .347 of their shots (17-49) and never led in the contest.

North Central led by seven (30-23) at the break and built the margin as high as 13 points (53-40) late in the second half. The Cardinals shot .480 (12-25) in the first half but the Augustana defense recovered in the second half and held the home team to just .348 (8-23) over the final 20 minutes.
Landon Gamble scored 22 points and grabbed eight rebounds to lead the home team to victory.
Augustana got 13 points from sophomore guard Danielius Jurgutis (Downers Grove South HS, Darien, Ill.) but he was the lone Viking in double figures for the night. Senior Brandon Kunz (Lake Zurich HS, Lake Zurich, Ill.) pulled down a game high nine rebounds as Augustana owned a 37-29 advantage on the glass.
The Vikings dropped to 12-3 overall and 2-2 in the CCIW while North Central moved to 14-1 and 3-1. Augustana will host Wheaton on Wednesday, January 16 at 7:30 p.m. in the Carver Center.