January 12, 2013
High scoring affair gets away from Vikings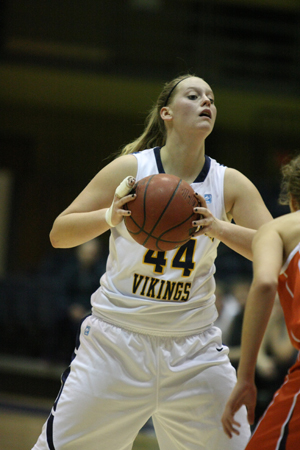 Chaney Tambling led Augustana with 18 points but the Vikings dropped a 105-98 decision at North Central on Saturday, January 12.
NAPERVILLE, Ill. - In a high-scoring affair, North Central edged Augustana 105-98 on Saturday, January 12 in College Conference of Illinois & Wisconsin action in Naperville, Illinois. The Cardinals used 13 three point field goal attempts to provide the difference in the game.

First year head coach Mark Beinborn's Vikings actually had 42 field goals in the game to North Central's 33 but it was those 13 shots made behind the arc that proved to be the difference. Augustana shot .512 (42-82) from the floor while the Cardinals hit on just .402 (33-82). However, North Central nailed eight of 18 three-point field goals in the first half and raced out to a 55-46 lead. The Cardinals also forced 40 turnovers by the Vikings.
Chaney Tambling (Dwight HS, Dwight, Ill.) led Augustana in scoring with 18 points on nine of 13 shooting from the floor. A total of five Vikings ended the game in double figures. Amy Hicks (Rockford Christian HS, Rockford, Ill.) dropped in 17 points and Gianna Pecora (Downers Grove South HS, Darien, Ill.) had 15. Maddie Kerr (Elgin St. Edward's HS, Streamwood, Ill.) scored 11 points and Molly Etheridge (Normal Community HS, Bloomington, Ill.) had 10.
The Vikings won the rebounding battle by a huge margin of 59-40 with Etheridge hauling down 11 to lead the way. Hicks and Andrea McNally (Hinsdale South HS, Burr Ridge, Ill.) each had eight. North Central had five players in double figures with Larynn Shumaker leading the way with 20 points.
Augustana led by six points (38-32) with 7:08 left in the first half but the Cardinals went on a 23-8 run to close things out and take a 55-46 lead at intermission. North Central then went on an 11-2 run to open the second half and with 16:59 left in the game had a 66-48 advantage. The margin was 21 points (91-70) with 8:45 remaining when the Vikings went on a 28-13 surge and with :23 left closed the gap to 104-98.
Augustana is now 5-9 overall and 1-3 in the CCIW while North Central if 8-7 and 1-3.