January 9, 2013
Vikings fall at #22 IWU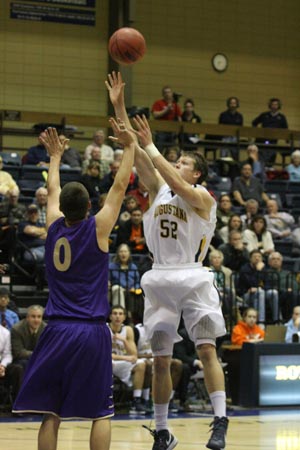 Brandon Kunz scored 19 points and pulled down five rebounds but #17 Augustana fell at #22 Illinois Wesleyan on Wednesday, January 9 by a score of 63-60.
BLOOMINGTON, Ill. - In a battle of two teams ranked in the top 25 in the latest D3hoops.com national poll, number 17 Augustana fell at 22nd rated Illinois Wesleyan on Wednesday, January 9 at the Shirk Center in Bloomington, Illinois. In a game that saw the Vikings lead 10 early (12-2 with 15:59 left in the first half) and trail by as much as 14 late (58-44 with 7:10 remaining in the game), it was the home team's ability to control the boards that might have proven the difference.

Rebounding and defense are normally Augustana staples but on this night Illinois Wesleyan forged a 36-28 advantage on the glass and shot .469 (23-49) from the floor, including .524 (11-21) in the second half.
The Vikings sprinted out of the gate and when sophomore Brandon Thompson (Galesburg HS, Galesburg, Ill.) hit a three point field goal at 15:59, they led 12-2. Illinois Wesleyan recovered, however, and by halftime the game was tied 31-31.
In the second half the Titans trailed 35-34 with 15:55 left after Brandon Kunz (Lake Zurich HS, Lake Zurich, Ill.) scored off an assist by Danielius Jurgutis (Downers Grove South HS, Darien, Ill.). Over the next eight-plus minutes the home team went on a 23-10 run and when Parker Musselman buried a three point field goal with 7:10 left the Illinois Wesleyan lead was 14 (58-44).
The Vikings scored the game's next 14 points and when Kunz tipped in a miss by Thompson at the 2:54 mark, the game was tied 58-58.
Brady Zimmer put the Titans in front for good with a three point field goal at 2:39 to make it 61-58. Freshman Ben Ryan (Washington HS, Washington, Ill.) scored a pair of free throws at 2:04 to cut the margin to 61-60 but Augustana would not score again. The Vikings missed four shots in the final two minutes of play and fell for just the second time in 14 games.
Augustana got 19 points and five rebounds from Kunz and 10 points and nine rebounds out of Ryan. However, after shooting .520 (13-25) from the floor in the second half, the Vikings could only connect on .345 (10-29). The Vikings hit three of four from three point range in the first half but misfired on all six attempts in the second 20 minutes.
Illinois Wesleyan got 19 points off the bench from Brady Zimmer and 16 points from Victor Davis.
The Vikings fall to 12-2 overall and 2-1 in the CCIW while the Titans go to 11-3 and 3-0.