January 9, 2013
Big first half leads to win over Wheaton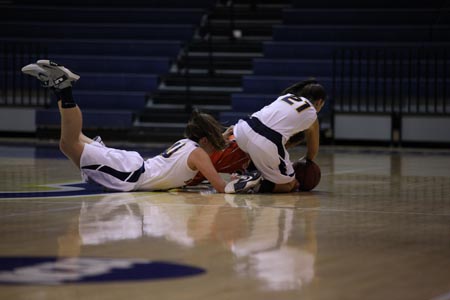 Jessica Baids (on floor) and Valerie VanRoeyen (#21) scramble after a loose ball in Augustana's 60-53 victory over Wheaton on Wednesday night in the Carver Center.
ROCK ISLAND, Ill. - A nearly flawless first half ended up being the difference as Augustana defeated Wheaton 60-53 in College Conference of Illinois & Wisconsin action on Wednesday, January 9 in the Carver Center. Just four days removed from a 38-point loss at Carthage, first year head coach Mark Beinborn's team showed no ill-effects, especially in the first 20 minutes of play.

The Vikings shot .556 (15-27) from the floor and .500 (6-12) from three point range and were perfect on both free throws as they bolted out to a 20-point (38-18) lead at intermission. Augustana was also in the groove defensively, holding the visiting Thunder to just .206 (7-34) from the floor and only .091 (1-11) from three point range. Wheaton also managed to hit just three of eight (.375) free throws.
Although things tightened considerably in the second half, the Vikings were able to withstand the fierce Thunder pressure to come away with the victory.
Augustana never trailed in the game, jumping out to an 8-2 lead in the early going and racing to a 17-point margin (25-8) with 8:38 to play. The onslaught continued and when junior Chaney Tambling (Dwight HS, Dwight, Ill.) scored with just 17 seconds left before halftime, the Vikings had a 20-point lead (38-18) at the break.
Tambling's basket in the first minute of play in the second half bumped the margin to 22 points (40-18) for the biggest lead of the game. Wheaton then scored 31 of the game's next 44 points, ending a 31-13 run with a basket by Moriah Reeves with 2:45 left. That cut the lead to 53-49.
However, Jessica Baids (West Chicago HS, Carol Stream, Ill.) scored at 2:33 to make it 55-49. Wheaton then missed three, three-point field goal attempts before Jenn Lee was fouled attempting a three point field goal with :45 left. She missed the first free throw but made the next two to trim the margin to 55-51.
Junior Molly Etheridge (Normal Community HS, Bloomington, Ill.) hit one of two free throws at :38 to make it 56-51. After a missed Wheaton shot, Baids nailed a pair of free throws at :22 to make it 58-51. Brooke Olson hit a basket for the Thunder at :13 to cut the gap to five (58-53) but senior Gianna Pecora (Downers Grove South HS, Darien, Ill.) sealed the win with a pair of free throws with :14 left.
Baids scored a game-high 18 points as she went five of six from the floor, one of one from three point range and five of six from the charity stripe. She also hauled in five rebounds and had an assist. Joining her in double figures were Etheridge and fellow junior Amy Hicks (Rockford Christian HS, Rockford, Ill.). Etheridge had 11 points and Hicks scored 12. Etheridge also had four assists and pulled down seven rebounds.
Pecora only scored five points but she had a team-high nine rebounds and added three assists. Augustana battled Wheaton to a 44-44 standoff on the backboards.
Wheaton was led in scoring by Ellie Zeller and Breanna Bohlen, each with 11 points and Brooke Olson, who scored 10. Zeller had a game-high 11 rebounds and Hannah Considine pulled down nine.
Augustana had not beaten Wheaton since a 59-56 win in 2007-08 and the victory snapped a nine-game losing streak to the Thunder. The Vikings are now 5-8 overall and 1-2 in the CCIW while Wheaton falls to 11-2 and 2-1.