January 8, 2013
Wrestlers move to 11-3 with win over Pioneers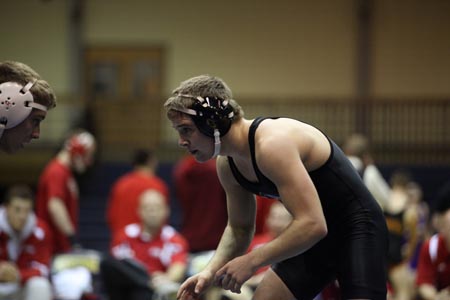 Freshman Jimmy Pannozzo picked up a 9-4 win at 125 pounds to get the 17th ranked Vikings started in the right direction during Tuesday's 37-9 win at Wisconsin-Platteville.
PLATTEVILLE, Wis. - It didn't take very long for the 17th ranked Vikings to establish control in a 39-7 non-conference wrestling victory over the University of Wisconsin-Platteville on Tuesday, January 8 in Platteville, Wisconsin. Augustana won the first five weight classes to build a 24-0 lead en route to winning for the 11th time this season against just three defeats.

Freshman Jimmy Pannozzo (Carl Sandburg HS, Orland Park, Ill.) got things started with a 9-4 win over Cole Ferguson at 125 pounds. The match was tied 3-3 early in the second period but Pannozzo had an escape early in the third and then recorded a pair of takedowns later as he moved his record to 17-8.
Junior Jacob Scholten (Rockford HS, Grandville, Mich.) picked up a forfeit at 133 and is now 22-3. Sophomore Hector Ruiz (East Aurora HS, Aurora, Ill.) recorded a takedown 15 seconds into overtime for a 3-1 win over Tyler Henken at 141 pounds. Ruiz is now 16-9 this season.
Sophomores Walter Piech (Lincoln-Way East HS, Mokena, Ill.) and Kevin Sundberg (Paw Paw HS, Paw Paw, Mich.) came up with consecutive pins at 149 and 157 pounds to break the match wide open. Piech decked Aaron Bonnell at 3:38 to move to 16-9 and Sundberg earned a fall at 2:37 over Robbie Kerr and is now 20-9.
The Vikings dropped the 165 pound match as sophomore Torey Welch (Valor Christian HS, Littleton, Colo.) lost 2-1 to Randy Wade. However, sophomore Connor Cummings (Downers Grove North HS, Woodridge, Ill.) scored at will in a 17-6 victory over Nathan Schmitz at 174 pounds.
Junior All-American Jordan Richardson (Grandville HS, Wyoming, Ill.) pinned Laquan Hightower just before the final buzzer of the 184 pound weight class. Richardson is now 22-5. Freshman Jake Melik (Pleasant Valley HS, Bettendorf, Iowa) lost 8-0 to Abe Grazziano at 197 before junior Abe Duran (East Aurora HS, Aurora, Ill.) ended things with a pin over Cody Soderstrom at 6:41 of the 285 pound match. Duran is now 9-5 on the year.
The Vikings will compete on Saturday, January 12 at the Central of Iowa Invitational in Pella, Iowa.
AUGUSTANA 39, UW-PLATTEVILLE 7
Tuesday, January 8, 2013
Williams Arena *** Platteville, Wisconsin
125 - Jimmy Pannozzo (A) beat Cole Ferguson (UWP) 9-4
133 - Jacob Scholten (A) won by forfeit
141 - Hector Ruiz (A) beat Tyler Henken (UWP) 3-1
149 - Walter Piech (A) pinned Aaron Bonnell (UWP) @ 3:38
157 - Kevin Sundberg (A) pinned Robbie Kerr (UWP) @ 2:37
165 - Randy Wade (UWP) beat Torey Welch (A) 2-1
174 - Connor Cummings (A) beat Nathan Schmitz (UWP) 17-6
184 - Jordan Richardson (A) pinned Laquan Hightower (UWP) @ 6:53
197 - Abe Grazziano (UWP) beat Jake Melik (A) 8-0
285 - Abe Duran (A) pinned Cody Soderstrom (UWP) @ 6:41