January 5, 2013
17th ranked Vikings win three of four at Knox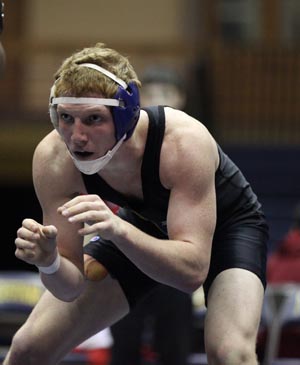 Sophomore Walter Piech went 3-1 at 149 pounds as 17th ranked Augustana won three of four matches at the Knox Dual Tournament on Saturday, January 5 in Galesburg, Illinois. The Vikings only loss was a 24-12 setback at the hands of 15th ranked Luther.
GALESBURG, Ill. - Augustana, ranked 17th in the latest NCAA Division III national wrestling ranking, won three of four matches at the Knox Duals on Saturday, January 5 in Galesburg, Illinois. The Vikings pushed their overall record to 10-3 on the year.
Sixth-year head coach Eric Juergens' team opened the day with a 44-9 victory over Hannibal-LaGrange and followed that with a 33-10 win over Trine in the second round. The Vikings fell to 15th ranked Luther 24-12 in the third round before closing out the tournament with a 25-15 victory over Chicago.
Junior Jacob Scholten (Rockford HS, Grandville, Mich.) was the only Augustana wrestler to finish the afternoon with a perfect 4-0 record. He won three matches at 125 pounds and one at 133 and is now 21-3 on the season. Senior Matt Burns (Naperville Central HS, Naperville, Ill.) went 3-0 at 174 and he bumped his record to 23-2.
Sophomore Walter Piech (Lincoln-Way East HS, Mokena, Ill.), sophomore Kevin Sundberg (Paw Paw HS, Paw Paw, Mich.) and junior Jordan Richardson (Grandville HS, Wyoming, Mich.) all posted 3-1 marks for the day.
Augustana will be in action next on January 8 at the University of Wisconsin-Platteville.
MATCH RECAPS FROM THE KNOX DUALS
AUGUSTANA 44, HANNIBAL-LAGRANGE 9
The Vikings didn't have too much trouble with Hannibal-LaGrange, winning eight of the 10 weight classes en route to a 44-9 team victory.
Scholten picked up a forfeit at 125 and freshman Jimmy Panozzo (Carl Sandburg HS, Orland Park, Ill.) followed with a 14-1 victory over Harry Jacobsen at 133. Sophomore Hector Ruiz (East Aurora HS, Aurora, Ill.) was given a forfeit win at 141 and Piech came through with a 10-1 win over Tyler Sonnabend at 149. Sundberg pinned James Townsend at 4:03 in the 157 pound match.
With victories in the first five weight classes, Augustana led 26-0 and the rout was on. Burns pinned Nathan Downs at 3:56 in the 174 pound weight class and Richardson and Jake Melik (Pleasant Valley HS, Bettendorf, Iowa) received forfeits at 184 and 197 respectively.
AUGUSTANA 33, TRINE 10
Augustana won seven of 10 weight classes during a 33-10 triumph over Trine.
Scholten dominated Brandon Preston at 125 pounds by a score of 13-2 to get the Vikings off to a fast start. After Panozzo dropped a close 4-2 decision to Nick Adler at 133, Ruiz took care of Anders Douglass by technical fall at 141. He was ahead 19-4 when the match was stopped in the third period. Piech pinned Jon Blanton at 1:30 in the 149 pound weight class.
At 165 pounds, sophomore Torey Welch (Valor Christian HS, Littleton, Colo.) recorded a pin just :45 into his match with Jake Schroeder. Burns had a tough one against Ryan Pieper at 165 before winning 6-5 and Richardson pinned Nick Fruits at 1:10 in the 184 pound bout. Junior Abe Duran (East Aurora HS, Aurora, Ill.) beat Shane Hendrickson 3-0 at 285.
LUTHER 24, AUGUSTANA 12
The Vikings were locked into a struggle with 15th ranked Luther until the Norse won the final three weight classes to pull away for the victory. After Burns beat Jarid Groth 11-6 at 174 pounds, Augustana led 12-10. However, Richardson was pinned by Jayden DeVilbiss at 2:46 in the 184 pound match to give Luther a 16-12 advantage and the Norse picked up a technical fall at 197 and a win at 285 to salt away the victory.
Scholten started things off for the Vikings with a 7-3 win over Nick Scheffert at 125. Piech got a 4-2 win against Chris George at 149 and Sundberg beat Jake Fox 6-0 at 157.
AUGUSTANA 25, CHICAGO 15
Augustana bounced back nicely from the loss to Luther to hang a 25-15 defeat on the University of Chicago. The Vikings won four of the first five weight classes to build a 16-3 lead.
Panozzo was awarded a forfeit at 125 and Scholten, moving up a weight class, beat Will Long at 133 pounds by a score of 10-3. Freshman Isaiah Schaub (St. Francis HS, Traverse City, Mich.) got his first action of the day and responded with a 16-8 win over Joe Ellis at 141.
Piech lost for the first time on the afternoon at 149 pounds by a score of 9-4 to Joseph Ruettiger but Sundberg took a close one at 157 by a score of 3-2 over Devon Range to keep Augustana in command. Richardson beat Sam Pennisi 12-9 at 184 and sophomore John Schraidt (Riverside-Brookfield HS, Riverside, Ill.) closed out the match with a pin over Jeff Tyburski at the 2:58 mark of the 285 pound weight class.
AUGUSTANA 44, HANNIBAL-LAGRANGE 9
125 - Jake Scholten (A) won by forfeit
133 - Jimmy Pannozzo (A) beat Harry Jacobsen (HL) 14-1
141 - Hector Ruiz (A) won by forfeit
149 - Walter Piech (A) beat Tyler Sonnabend (HL) 10-1
157 - Kevin Sundberg (A) pinned James Townsend (HL) @ 4:03
165 - Bryce Alexander (HL) beat Torey Welch (A) 4-1
174 - Matt Burns (A) pinned Nathan Downs (HL) @ 3:56
184 - Jordan Richardson (A) won by forfeit
197 - Jake Melik (A) won by forfeit
285 - Mike Wright (HL) pinned John Schraidt (A) @ 3:42
AUGUSTANA 33, TRINE 10
125 - Jake Scholten (A) beat Brandon Preston (T) 13-2
133 - Nick Ader (T) beat Jimmy Panozzo (A) 4-2
141 - Hector Ruiz (A) beat Anders Douglass (T) by TF in third period 19-4
149 - Walter Piech (A) pinned Jon Blanton (T) @ 1:30
157 - Elias Larson (T) beat Kevin Sundberg (A) 13-3
165 - Torey Welch (T) pinned Jake Schroeder (T) @ :45
174 - Matt Burns (A) beat Ryan Pieper (T) 6-5
184 - Jordan Richardson (A) pinned Nick Fruits (T) @ 1:10
197 - Mack Green (T) beat Jake Melik (A) 4-1
285 - Abe Duran (A) beat Shane Hendrickson (T) 3-0
LUTHER 24, AUGUSTANA 12
125 - Jake Scholten (A) beat Nick Scheffert (L) 7-3
133 - Even Obert (L) beat Jimmy Panozzo (A) 14-4
141 - Kyle Windquist (L) beat Hector Ruiz (A) 8-6
149 - Walter Piech (A) beat Chris George (L) 4-2
157 - Kevin Sundberg (A) beat Jake Fox (L) 6-0
165 - Garrett Bonte (L) beat Torey Welch (A) 9-2
174 - Matt Burns (A) beat Jarid Groth (L) 11-6
184 - Jayden DeVilbiss (L) pinned Jordan Richardson (A) @ 2:46
197 - Trent Flegel (L) beat Jake Melik (A) 15-0
285 - Nick Pearch (L) beat John Schraidt (A) 5-2
AUGUSTANA 25, CHICAGO 15
125 - Jimmy Panozzo (A) won by forfeit
133 - Jake Scholten (A) beat Will Long (UC) 10-3
141 - Isaiah Schaub (A) beat Joe Ellis (UC) 16-8
149 - Joseph Ruettiger (UC) beat Walter Piech (A) 9-4
157 - Kevin Sundberg (A) beat Devon Range (UC) 3-2
165 - Sam Hopkins (UC) beat Connor Cummings (A) 3-1
174 - Ryley Hankenson (UC) beat Torey Welch (A) 9-4
184 - Jordan Richardson (A) beat Sam Pennisi (UC) 12-9
197 - Mario Palmisano (UC) pinned Jake Melik (A) @ 2:16
285 - John Schraidt (A) pinned Jeff Typurski (UC) @ 2:58