January 5, 2013
Strong second half propels 19th ranked Vikings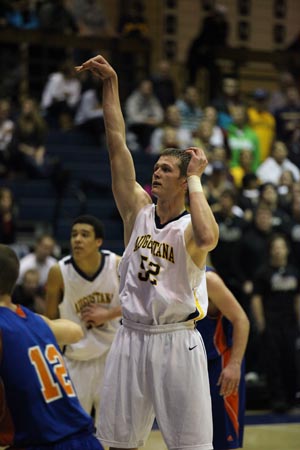 Senior Brandon Kunz scored 12 points and grabbed eight rebounds to lead Augustana to a 68-56 road victory at Carthage on Saturday, January 5 in College Conference of Illinois & Wisconsin action.
KENOSHA, Wis. - A complete reversal of roles in the second half led directly to number 19 Augustana's 68-56 College Conference of Illinois & Wisconsin victory over Carthage on Saturday, January 5 in Kenosha, Wisconsin. After trailing by five points (30-25) at halftime, the Vikings shot it much better and put the clamps on defensively and the result was a key road victory in league action.

At intermission, veteran head coach Grey Giovanine's team trailed by five points after Carthage's Reese Herth hit a basket with just two second remaining on the clock. After the Red Men's Cameron Van Wyke scored on his team's first possession of the second half to make it 32-25, Augustana dug in and went to work.
The Vikings scored the next six points and with 17:00 the lead was down to 32-31 following a pair of free throws by Brandon Kunz (Lake Zurich HS, Lake Zurich, Ill.). Eventually, Kunz would tie the game 36-36 at the 15:29 mark on a dunk after an assist by freshman Griffin Pils (Libertyville HS, Libertyville, Ill.). Pils scored at 14:21 to make it 38-36 and give Augustana a lead that it would not relinquish. When freshman Tayvian Johnson (United Township HS, East Moline, Ill.) scored at 9:12, the margin was nine points (50-41) and that capped a 25-9 run.
Carthage did manage to narrow the gap to three points (53-50) with just 5:10 left after a basket by Herth but sophomore Danielius Jurgutis (Downers Grove South HS, Darien, Ill.) counted with a three point basket at 5:04 to bump the margin to six points.
The Vikings scored their final 10 points from the free throw lines over the final 3:41 in the game to keep the Red Men at bay. Augustana hit 10 of its last 12 free throw attempts to seal the victory. In the first half Giovanine's club hit .462 (12-26) from the floor but that paled in comparison to what Carthage was doing. The Red Men hit 13 of 25 for .520 from the field. After intermission, things turned completely in Augustana's favor. The Vikings went 12 of 22 from the floor for a mark of .545 while Carthage managed just .258 (8-31). Augustana held the home team to just .111 (1-9) from three point range in the second half and .133 (2-15) for the game from beyond the arc.
Once again, it was a balanced offensive attack for the Vikings as freshman Ben Ryan (Washington HS, Washington, Ill.) led the team in scoring with 13 points. Kunz chipped in with 12 and sophomore Brandon Thompson (Galesburg HS, Galesburg, Ill.) added 10.
Augustana held a 35-30 edge in rebounding with Kunz leading the way with eight before eventually fouling out. Thompson grabbed five boards and Jurgutis and Pils each pulled down four. Ryan and Thompson both dished off three assists. Johnson scored eight points and had two rebounds but he blocked a game high three shots.
Carthage, which fell to 5-8 overall and 0-2 in conference play, was led in scoring by Herth with 15 points.
The Vikings are now 12-1 overall and 2-0 in CCIW action heading into a game on Wednesday, January 9 at Illinois Wesleyan. They have won six straight since a loss at Wisconsin-Stevens Point on December 8.