January 5, 2013
Poor shooting costs Vikings at Carthage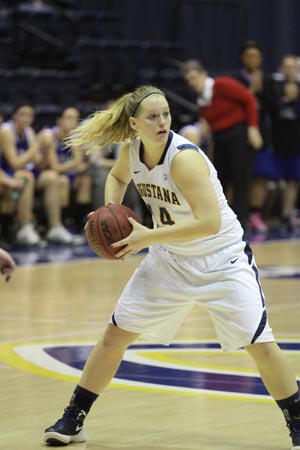 Chaney Tambling scored six points and pulled down a team-high eight rebounds on Saturday, January 5 during the Vikings' 73-35 loss at Carthage.
KENOSHA, Wis. - Augustana suffered through a poor shooting night and that statistic proved extremely costly in a 73-35 loss to Carthage on Saturday, January 5 in College Conference of Illinois & Wisconsin action in Kenosha, Wisconsin. The Vikings managed to connect on just .273 from the field (12-44) while the host Lady Reds were knocking in shots at a .571 clip (28-49).

Junior Chaney Tambling (Dwight HS, Dwight, Ill.) scored six points and hauled in eight rebounds to lead the way for Augustana. Sophomore Amy Hicks (Rockford Christian HS, Rockford, Ill.) also had six points. Junior Molly Etheridge (Normal Community HS, Bloomington, Ill.) had a team-high three assists.
Carthage got 12 points from Michelle Wenzel and 10 points out of Cailee Corcoran to lead a balanced attack that saw a total of six players score at least eight points.
Augustana fell to 4-8 overall and 0-2 in the CCIW while Carthage moved to 10-3 and 2-0. The Vikings will host Wheaton on Wednesday, January 9 in the Carver Center.