January 5, 2013
Wrestlers now ranked 17th in NCAA Division III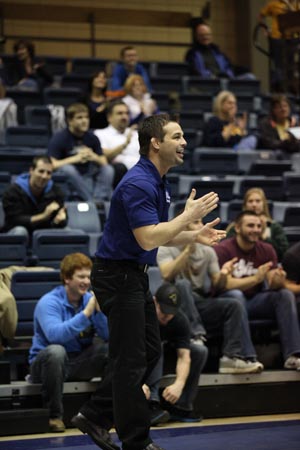 Eric Juergens has had plenty to be happy about this year as his Vikings are 7-2 and currently ranked 17th in the latest NCAA Division III national poll according to the National Wrestling Coaches Association.
ROCK ISLAND, Ill. - Buoyed by five victories in a span of four days just before the Christmas break, the Augustana wrestling team has jumped to 17th in the latest NCAA Division III national wrestling rankings. The Vikings of sixth-year head coach Eric Juergens are currently 7-2 overall and moved up two slots in the National Wrestling Coaches Association poll.
Augustana had been 19th but a 27-20 win at then-13th rated Cornell on December 12, followed by victories over Alma (24-12), Heidelberg (24-13), Concordia-Wisconsin (42-3) and SUNY-Oneonta (24-13) on December 16 at the Florida Duals in Ft. Myers, Florida precipitated a jump of two positions. The Vikings only losses this season were two nationally ranked teams. They fell to number 16 Dubuque by a score of 19-13 on November 14 in Galesburg, Illinois and dropped a 27-12 decision to 14th rated Central of Iowa on December 6 at home.
Not only is the Augustana team drawing some national attention, but three individual Vikings are in the rankings as well. The d3wrestle.com individual weight class ranking was released on January 2 and junior Jacob Scholten (Rockford HS, Grandville, Ill.) leads the way. Scholten, who has compiled a 17-3 record, is ranked fourth at 125 pounds.
Also in the individual rankings are junior Jordan Richardson (Grandville HS, Wyoming, Mich.) and senior Matt Burns (Naperville Central HS, Naperville, Ill.). Richardson is currently 12th at 184 pounds where he has compiled an 18-4 mark and Burns is 13th at 174 pounds where he is 20-2.
All three of those wrestlers have been College Conference of Illinois & Wisconsin individual champions and have participated in the NCAA Division III national meet.
Juergens' team has a total of 11 wrestlers with at least 10 victories so far this season. Besides Burns, Richardson and Scholten, who have a combined record of 55-9, sophomore John Schraidt (Riverside-Brookfield HS, Riverside, Ill.) is 16-4 at 285 pounds and sophomore Kevin Sundberg (Paw Paw HS, Paw Paw, Mich.) is 16-8 at 157 pounds. Freshman Jimmy Panozzo (Carl Sandburg HS, Orland Park, Ill.) is 14-6 despite wrestling up a weight class at 133 pounds and sophomore Hector Ruiz (East Aurora HS, Aurora, Ill.) is 13-8 at 141 pounds.
Augustana will get a test today at the Knox Dual Tournament in Galesburg, Illinois with matches against Wabash, Luther and Trine. Wabash is currently ranked 10th in the nation while Luther is 15th. The Vikings will head to Platteville, Wisconsin on January 8 for a match against Wisconsin-Platteville before heading to Pella, Iowa on January 12 for the Central of Iowa Tournament.
The next home match for Augustana will be January 17 against North Central at 7:00 p.m.
2012-13 NCAA DIVISION III NATIONAL DUAL MEET RANKING
As compiled by the National Wrestling Coaches Association
| | | | |
| --- | --- | --- | --- |
| RANK | TEAM | DUAL RECORD | LAST RANKING |
| 1 | Wartburg | 6-0 | 1 |
| 2 | Augsburg | 2-0 | 2 |
| 3 | Elmhurst | 5-0 | 3 |
| 4 | SUNY-Cortland | 6-0 | 6 |
| 5 | Centenary | 4-1 | 7 |
| 6 | Wisconsin-LaCrosse | 9-1 | 5 |
| 7 | Olivet | 4-4 | 10 |
| 8 | Coe | 5-3 | 4 |
| 9 | Ithaca | 2-0 | 8 |
| 10 | Wabash | 0-0 | 11 |
| 11 | Wisconsin-Whitewater | 4-0 | 9 |
| 12 | Concordia-Moorhead | 3-3 | 12 |
| 13 | Wisconsin-Stevens Point | 7-1 | 14 |
| 14 | Central of Iowa | 7-1 | 15 |
| 15 | Luther | 1-3 | 16 |
| 16 | Dubuque | 2-2 | 18 |
| 17 | AUGUSTANA | 7-2 | 19 |
| 18 | Cornell | 5-2 | 13 |
| 19 | Ohio Northern | 5-1 | 17 |
| 20 | College of New Jersey | 2-0 | 20 |