January 2, 2013
Vikings open CCIW play with 89-54 win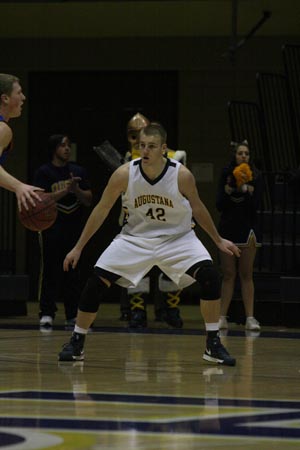 Sophomore Nic Hoepfner scored 16 points and grabbed six rebounds in just 13 minutes Wednesday as 19th-ranked Augustana opened CCIW play with an 89-54 win over North Park.
ROCK ISLAND, Ill. - Nic Hoepfner (United Township HS, East Moline, Ill.) scored 16 points and grabbed six rebounds in just 13 minutes of action Wednesday as Augustana opened the CCIW portion of its schedule with an 89-54 win over North Park at Carver Center. The 19th-ranked host Vikings improved to 11-1 on the year, while the visiting Vikings fell to 5-7 overall and 0-1 in the league.

Both teams started out hot from the field and combined to hit 12 of 19 three-point attempts in the opening half. The visitors took their only lead of the night at 9-8 on a three-pointer by Ryan Hyrn at the 16:49 mark. Augustana's Griffin Pils (Libertyville HS, Libertyville, Ill.) answered with a trey of his own sixteen seconds later to give the hosts the lead for good.
A Brandon Thompson (Galesburg HS, Galesburg, Ill.) three-pointer with 12:34 left in the half gave Augustana its first double-digit lead of the night at 26-16 and after the teams split the next 20 points, the hosts closed the half with a 12-4 run to take a 48-30 advantage to the locker room.
It didn't take long for Augustana to put the game out of reach as coach Grey Giovanine's crew opened the second half with a 17-0 run to push the margin to 65-30 with 14:49 remaining. Brandon Kunz (Lake Zurich HS, Lake Zurich, Ill.) had six points and Ben Ryan (Washington HS, Washington, Ill.) five during the spree and a three-pointer each from Danielius Jurgutis (Downers Grove South HS, Darien, Ill.) and Thompson accounted for the other points.
Hoepfner scored eight straight points as the margin reached its largest at 75-36 with 11:20 to go. Giovanine subbed deep into his bench over the final 10 minutes, with 14 players seeing at least eight minutes of action and 13 of them getting on the scoreboard.
Thompson and Jurgutis finished with 11 points each. The pair combined to hit six of seven three-pointers on the night. Kunz, Mark Roth (Washington HS, Washington, Ill.) and Brandon Motzel (Carmel HS, Buffalo Grove, Ill.) each added eight. The hosts piled up a 47-24 advantage on the boards, with Alex Dziagwa (Riverside-Brookfield HS, Brookfield, Ill.) grabbing seven and Hoepfner, Kunz and Tayvian Johnson (United Township HS, East Moline, Ill.) snaring six each. Ryan had a game-high five of Augustana's 20 assists.
The hosts connected on 35 of 70 from the floor, hitting at least 50 percent from the field for the fifth straight game. They held North Park to 16 of 44 (.364) and just seven of 25 (.280) in the second half.
Augustana opens a stretch of three straight road games with a Saturday date at Carthage. Tipoff at Tarble Arena in Kenosha, Wisconsin is scheduled for 7:00 p.m.