December 21, 2012
Big 2nd half gives Vikings 83-53 win over Loras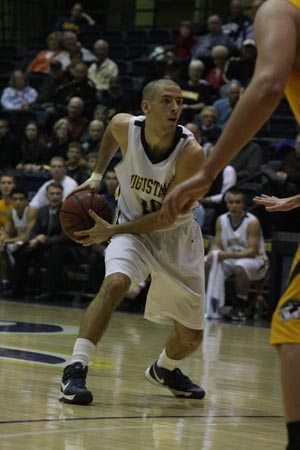 Sophomore Mark Roth hit three of four three-point attempts and was one of five Vikings in double figures with 11 points as Augustana defeated Loras 83-53 at Carver Center Friday night.
ROCK ISLAND, Ill. - Augustana shook off a sluggish opening 20 minutes to put 55 points on the board in the second half and cruise to an 83-53 win over Loras Friday night at Carver Center. The Vikings put five players in double figures in the contest, delayed a day by Thursday's blizzard. Ranked 22nd in the nation, Augustana closes out the non-conference portion of its schedule with a 10-1 record. The Duhawks fall to 4-5 on the year.
Each team shot less than 35 percent and committed double digits in turnovers in the first half. The Vikings led the entire way, with their biggest lead of the opening stanza occurring at 26-13 following a pair of Brandon Thompson (Galesburg HS, Galesburg, Ill.) free throws with 4:14 left. Loras' Jake Rutan and Ryan Coon each had a field goal in the final 1:41 to cut the Augustana advantage to 28-20 at the break.
On the first possession of the second half, Brandon Kunz (Lake Zurich HS, Lake Zurich, Ill.) and Danielius Jurgutis (Downers Grove South, Darien, Ill.) worked the two-man game, which resulted in a Jurgutis three-pointer. That started a 12-0 Viking run which was capped off by a Mark Roth (Washington HS, Washington, Ill.) trey and a 40-20 lead.
The margin bounced between 16 and 20 points until a steal and layup by Griffin Pils (Libertyville HS, Libertyville, Ill.) with seven minutes left made it 59-38, Augustana. Another Roth three-pointer at the 5:13 mark pushed the advantage to 25 for the first time. It reached 30 on the first of two Hunter Hill (Byron HS, Byron, Ill.) free throws with 1:10 remaining and 22 seconds later Alex Dziagwa (Riverside-Brookfield HS, Brookfield, Ill.) took a feed from Jawan Straughter (Plainfield East HS, Bolingbrook, Ill.) for a fast break dunk to give the hosts their biggest lead of the night at 83-50. A trey by Duhawk Luke Berry with 30 seconds left accounted for the final score.
The Vikings shot a blistering .654 from the field in the second half to finish at .510 (25 of 49) for the game. They hit six of 13 (.462) from beyond the arc, including three of four by Roth, and 27 of 36 (.750) from the foul line. Loras was 17 of 49 (.347) from the floor, five of 15 (.333) from three-point range and 14 of 23 (.609) from the line. Augustana had a 37-27 advantage on the boards and committed 17 turnovers to 22 for the visitors.
Kunz had game-highs of 13 points and three assists to go along with six rebounds. Roth scored 11 and Thompson, Jurgutis and Ben Ryan (Washington HS, Washington, Ill.) each had 10. Ryan had a game-high eight rebounds as well. Connor Mooney led Loras with 12 points.
The Vikings return to Carver Center on Wednesday, January 2, when they open CCIW play with a game against North Park. Tip-off is scheduled for 7:00 p.m.