December 20, 2012
Women's basketball game at Aurora postponed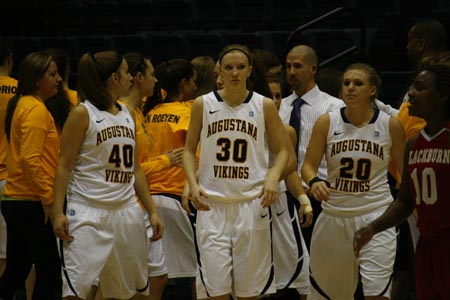 Augustana will not take the floor tonight at Aurora for its final non-conference game of the 2012-13 season. Bad weather and high winds have forced the postponement of the contest, which will be made up at a later date.
ROCK ISLAND, Ill. - The women's basketball non-conference game at Aurora, which was scheduled for tonight (Thursday, December 20) has been postponed. Heavy snow and high winds throughout the Midwest have made travel dangerous.
The game will be made up but no date has been confirmed.
The Vikings of first year head coach Mark Beinborn are currently 4-6 on the season after beating Dominican 73-42 on Tuesday, December 18 behind 10 points and five rebounds from junior Chaney Tambling (Dwight HS, Dwight, Ill.) and nine points and 10 rebounds from junior Molly Etheridge (Normal Community HS, Bloomington, Ill.).
Augustana's next game will be January 2, 2013 when North Park comes to town for the College Conference of Illinois & Wisconsin opener for both teams.