December 20, 2012
Fitzwater named captain for Team Stars-n-Stripes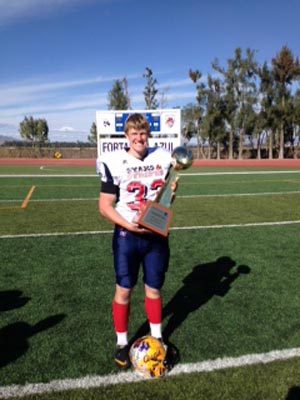 Arnie Fitzwater proudly displays the captain's trophy from Team Stars-n-Stripes.
Augustana senior punter Arnie Fitzwater (Union HS, Waterford, Wis.) helped his respective teams to two victories and was elected a team captain at the Tazón de Estrellas, as he and four other Viking seniors competed in three separate all-star football games over the past two weeks.

Fitzwater and teammates Joe Spindler (Hononegah HS, Rockton, Ill.), Brett McWilliams (Hononegah HS, Roscoe, Ill.) and Shane Holl (Batavia HS, North Aurora, Ill.) competed in the Tazón de Estrellas, or "Bowl of the Stars," in Guadalajara, Mexico on December 15. In the week leading up to the game, Fitzwater's Stars & Stripes teammates elected him one of four team captains, along with Wisconsin-Whitewater defensive lineman Jake Hohlstein, U.S. Merchant Marine Academy quarterback Alex Coviello and Wartburg College offensive lineman Jon Orr.
All four Augustana representatives contributed to a 32-15 Stars & Stripes win over the CONADEIP All-Stars of Mexico. Spindler was his team's third-leading tackler with six solo stops and one assist, while Holl was in on three tackles and credited with ½ tackle for loss. McWilliams had three carries for 12 yards and Fitzwater punted once for 53 yards and kicked off once as well.
A week earlier, Fitzwater participated in the D3 Senior Classic as part of the Stagg Bowl festivities in Salem, Virginia. He punted three times for a 36.7 yard net average as his South team claimed a 37-21 win over the North.
Viking safety Rob Mago (Cary Grove HS, Cary, Ill.) played in the National Bowl in Allentown, Pennsylvania on December 9. His "Blue Nation" team fell to "Red Nation" by a score of 35-21.