December 18, 2012
Vikings rebound to defeat Dominican 73-42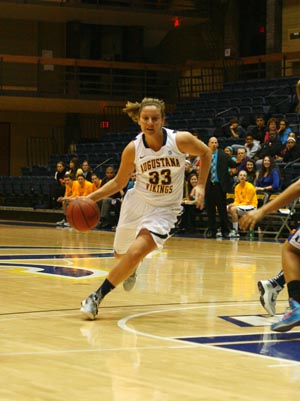 Freshman Maddie Kerr scored nine points Tuesday night as Augustana defeated Dominican 73-42 at Carver Center.
ROCK ISLAND, Ill. - Augustana used a 58-18 edge on the boards Tuesday night to snap a three-game losing streak with a 73-42 victory over Dominican at Carver Center. With the win, the Vikings improve to 4-6 on the year, while the Stars fall to 0-10.

A three-pointer and a pair of free throws by Dominican's Katie Budz, gave the visitors an early 5-4 lead, but junior guard Molly Etheridge (Normal Community HS, Bloomington, Ill.) hit one of two free throws to tie it and a three-pointer to put Augustana on top for good. Etheridge's four points started a 19-2 run that saw seven different Vikings score as the team raced to a 23-7 lead. Freshman Andrea McNally (Hinsdale South HS, Burr Ridge, Ill.) also had four points in the spree.
Maddie Kerr (St. Edward HS, Streamwood, Ill.) had a pair of field goals in the final 47 seconds of the first half as the hosts took a 34-19 lead into the locker room.
The lead continued to grow during the second stanza. Augustana started the half on a 10-2 run with four of those points coming from junior forward Chaney Tambling (Dwight Township HS, Dwight, Ill.). A pair of Kayla Boers (Oswego East HS, Oswego, Ill.) free throws with 15:20 left pushed the margin to 25, at 48-23. It hit 30 for the first time on a Gianna Pecora (Downers Grove South HS, Darien, Ill.) three-pointer with 5:51 remaining.
Augustana coach Mark Beinborn was able to go deep on his bench, playing all 14 Vikings who were dressed. 11 played at least 10 minutes and 12 got in the scoring column. Tambling, in her second game back after an injury, was the lone Augustana player in double digits, with 10. Etheridge finished with nine points and game highs of 10 rebounds and four assists in 22 minutes. Freshmen Kerr and Marissa Pezzopane (Addison Trail HS, Wood Dale, Ill.) each scored nine points as well and sophomore Boers added eight. Boers, freshman Alexandria Lee (St. Edward HS, West Dundee, Ill.) and sophomore Valerie VanRoeyen (Libertyville HS, Grayslake, Ill.) each snared six rebounds.
The Vikings finish off the non-conference portion of their schedule on Thursday, December 20, when they travel to Aurora to face the Spartans in a 7:00 p.m. contest.