December 18, 2012
Scholten named "Wrestler of the Week" in CCIW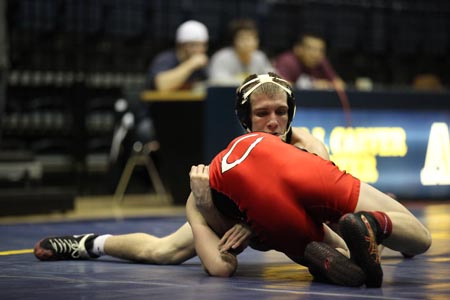 Junior Jacob Scholten won five straight matches last week at 125 pounds and was named the College Conference of Illinois & Wisconsin's "Wrestler of the Week".
Augustana junior Jacob Scholten (Rockford HS, Grandville, Mich.) won all five time he took to the mat last week and as a result he was selected at the "Wrestler of the Week" in the College Conference of Illinois & Wisconsin. Scholten, the Vikings regular at 125 pounds, helped lead 19th ranked Augustana to five consecutive dual meet victories.
Scholten started his week on Wednesday, December 12 with a 14-4 win over Ben Rosen of Cornell as the Vikings defeated the 12th ranked Rams 27-20. He then won four straight times at the Florida Duals in Ft. Myers, Florida on Sunday, December 16.
He began his day with a 6-0 win over Collin Lesko of Alma in Augustana's 24-12 victory over the Scots. Scholten followed that with a 6-4 triumph over Delian Schneider of Heidelberg as the Vikings won 24-13. In a 42-3 demolition of Concordia-Wisconsin, Scholten started things off with a 6-2 win against Sean Ambrocio. He finished his day with an 11-5 win over Zachary Aal of SUNY-Oneonta as Augustana won 24-12.
The Vikings are now 7-2 in dual meets and Scholten has posted a 17-3 record. He burst on the scene as a freshman in 2010-11 when he went 38-8 and won the CCIW title at 125. He sat out last season and now has a career record of 55-11.