December 16, 2012
Augustana prevails in shootout at MacMurray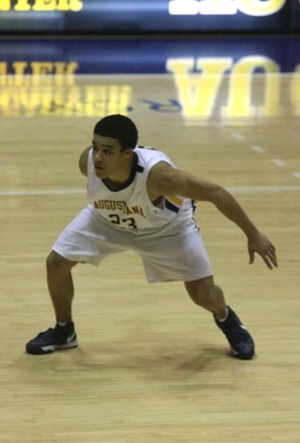 Sophomore guard Brandon Thompson had a career-high 21 points Sunday afternoon to lead Augustana to its ninth win in 10 games, 86-74 over MacMurray in Jacksonville, Illinois.
JACKSONVILLE, Ill.- Augustana and MacMurray combined to hit 14 of 24 three-point attempts Sunday afternoon, but the Vikings shot .596 from the field and .850 from the free throw line and won the rebounding and turnover battles to come away an 86-74 winner at Wall Gymnasium. Sophomore guard Brandon Thompson (Galesburg HS, Galesburg, Ill.) scored a career-high 21 points to lead four Vikings in double figures as the team improved to 9-1 on the season.

All five Augustana starters scored as the visitors bolted to a 12-2 lead two and a half minutes in. However, Highlander coach Todd Creal called a timeout and his club righted itself, eventually cutting the lead to five on a Dylan Burton three-pointer with 14:05 left in the half. The Vikings responded with a 10-3 run to take their biggest lead of the period at 28-16.
The margin was still 12 after Highlander Luke Bishop and Thompson traded three-pointers, but MacMurray outscored Augustana 22-10 over the next eight minutes to forge the only tie of the day at 38-38 with a minute left before halftime. A free throw by freshman Hunter Hill (Byron HS, Byron, Ill.) and baskets by senior Brandon Kunz (Lake Zurich HS, Lake Zurich, Ill.) and freshman Tayvian Johnson (United Township HS, East Moline, Ill.) gave the Vikings a 43-40 lead at the break.
A conventional three-point play by Kunz capped a 9-1 Augustana run in the first three minutes of the second half, leading to a 52-41 lead. MacMurray cut the deficit to seven on two occasions, but could get no closer.
Another three-point play, this one by freshman Griffin Pils (Libertyville HS, Libertyville, Ill.) at the 7:44 mark put the lead in double digits for good at 67-55. A Ben Ryan (Washington HS, Washington, Ill.) basket with 6:13 left gave the Vikings their biggest lead of the game at 74-57.
Both teams shot the ball well. MacMurray finished 25 of 53 (.491) from the floor, seven of 13 (.538) from beyond the arc and 15 of 19 (.789) from the free throw line. Augustana was better, however, converting 31 of 52 field goal attempts - including seven of 11 (.636) from three-point range - and 17 of 20 from the line. The Vikings also compiled a 28-16 advantage on the glass and committed 12 turnovers while forcing 14.
Thompson put together an impressive line, hitting six of 10 from the floor, including all four of his trey attempts, and five of five at the line. He grabbed five boards and three steals and dished out four assists without committing a turnover. Sophomore point guard Danielius Jurgutis (Downers Grove South HS, Darien, Ill.) added 14 points and a game-high five assists. Kunz scored 13 without missing a shot and snared a game-high eight rebounds. Ryan, with a dozen, was the fourth Viking in double figures. Johnson and Pils added eight points each.
Bishop led the 4-5 Highlanders with 15 points.
Coach Grey Giovanine's Vikings return to Carver Center on Thursday, December 20 to close out the non-conference portion of the schedule with a contest against Loras. Tipoff is scheduled for 7:30 p.m.