December 15, 2012
Vikings can't hold halftime lead at Central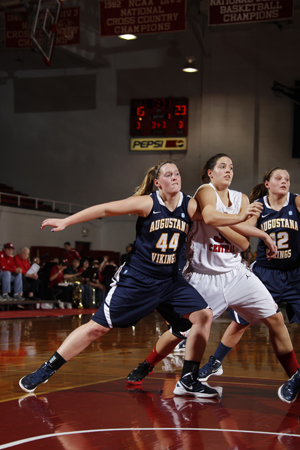 Junior Chaney Tambling had eight points and three rebounds Saturday, but Augustana dropped a 51-43 decision at Central.
PELLA, Iowa - Augustana took a 24-21 lead into the locker room Saturday afternoon, but shot just .300 from the floor in the second half and dropped a 51-43 decision at Central. The Vikings fall to 3-6 on the year, while the Dutch improve to 6-3.

A layup by junior Amy Hicks (Rockford Christian HS, Rockford, Ill.) with 15:43 to play gave Augustana a 32-28 lead, the team's biggest of the second half. However, the Dutch held the Vikings scoreless over the next five minutes and went on an 11-0 run to go up 39-32. A pair of free throws by junior Chaney Tambling (Dwight Township HS, Dwight, Ill.) finally broke the drought.
Augustana would get as close as three points, on a Gianna Pecora (Downers Grove South HS, Darien, Ill.) trey with 6:43 left, but Central's Annie Sarcone answered with one of her own 16 seconds later and it was never a one-possession game the rest of the way.
Back-to back three-pointers by Pecora (Downers Grove South HS, Darien, Ill.) and junior Molly Etheridge (Normal Community HS, Bloomington, Ill.) gave Augustana an early 6-4 lead. It was an advantage the Vikings would maintain through the rest of the half, as they hit 10 of 24 (.417) shots from the floor and held the Dutch to 8-of-23 (.348) shooting. Tambling's basket with 14:48 left in the period gave the visitors a 14-7 lead, their biggest of the game.
No Viking reached double figures in the contest. Pecora led the way with nine points and Tambling, seeing her first action of the season coming back from a broken finger, scored eight. Augustana finished the game 16 of 44 (.364) from the floor, four of 16 (.250) from beyond the arc and seven of eight (.875) at the line. The Vikings limited the Dutch to .346 field goal shooting on 18 of 52, but the hosts did knock down six of 15 (.400) three-pointers. Central outrebounded Augustana 34-31 and committed 18 turnovers to the Vikings' 24. The Dutch's Kalli Richardson had 16 points to lead all scorers.
Augustana returns to Carver Center on Tuesday, December 18 to face Dominican in a 7:30 p.m. contest.