A Walk with the Church
By Kai Swanson
When you walk with someone long enough, you get used to those narrow stretches where one or the other leads. Sometimes you wait for your partner to catch up, and sometimes your partner waits for you.
The recent announcement about same-gender weddings in Ascension Chapel represents a significant stretch in the 152-year walk shared by Augustana College and the Lutheran denomination to which it's related. For me, it's cause for celebration, but it also prompts some reflection about other moments in the college's walk with the Augustana Synod, the Lutheran Church in America (LCA) and the Evangelical Lutheran Church in America (ELCA).
In 1949, students were goading the college's leadership to remove a traditional ban on dancing that had been part of the school's rules since the beginning. The best account you'll find is in chapter three of Dr. Thomas Tredway's Coming of Age: A History of Augustana, 1935-1975, appositely titled, "And the Dance Went On."
Essentially, students wanted dancing, but the college's board dished off the decision to the Synod's Commission of Christian Higher Education, which would eventually offer an opinion equivocal enough to pave the way for dances on campus within the decade of the 1950s.
In the 1970s, the college walked well ahead of the church in promoting communion for all baptized persons, a step the LCA would not completely catch up with until it merged into the ELCA.
As for this latest chapter, President Steve Bahls and Pastors Richard Priggie and Kristen Glass Perez are to be commended for leading Augustana to be the first of the ELCA's colleges to make such an announcement, but the lead step actually belongs to the church, which cleared the way in 2009, thanks to action at that year's Churchwide Assembly.
I like to think of the welcoming of same-gender weddings in Ascension Chapel as a case of two old friends walking close to one another.
Working the Plan: Meet Doug Tschopp
Strategic Imperative 1: Prepare students to stand out
Doug Tschopp and his students have been helping put together physical portfolios for years, most recently through the work of the EDGE Center. So when he heard the buzz about the value of a new e-portfolio system, Doug thought "it just made sense" to take that next step.
He pointed out that some faculty across campus currently use methods for their students to save work and reflect on progress, which is very important for students to learn to articulate the strength of their education. The biology department is exceptional at requiring their majors to maintain an "internal portfolio."
"But I'm more interested in what will get students a job," he said. "That is the power of an e-portfolio."
Students have taken their physical portfolios to interviews with employers for jobs and internships. An e-portfolio may be what gets them that interview, as it allows them to demonstrate their experiences and skills in a way a résumé cannot.
Jordan Crouch '16 is creating a number of e-portfolio templates through his work in the EDGE Center. The templates can be used to build a Google site, which will allow students to maintain their e-portfolios for the long term.
The new e-portfolio will be a work in progress, to be shaped with input from faculty and students across campus. This first iteration will include descriptions of important projects, saved work, statements of purpose and goals. Most importantly, Doug said, it will have "pages that reflect the skill sets they developed that have value in that job market."
Affirm, Assure and Assess is a strategic plan designed to address real challenges, assess our actions and measure the effectiveness of our efforts. The eight strategic imperatives identified by a strategic planning task force in 2010 form the building blocks of a plan that focuses on proactive solutions and measurable outcomes.
Field Notes: The Joe of Christmas
Sharon Varallo (communication studies) gave the homily at the Joy of Christmas service at the Augustana Lutheran Church in Andover, Illinois, last week.
Ray Oldenburg, in The Great Good Place, writes of "third places," of places outside of home and work where anyone can go and be together with others in a community. Oldenburg writes with concern about the disappearance of actual "hangout" places like public parks or neighborhood joints, because those kind of boundary-free spaces allow people to gather and be known, and have agenda-free communities.
The use of third places is simple. The point of being together is being together. In some ways, the Joy of Christmas celebration is like a third place.
This past December 5, I was honored to offer the homily at the Joy of Christmas service, which I have attended for many years. The service has common elements that people come to rely on—the telling of the Christmas story in three different languages. The incredible music. A message about Christmas from who-knows-what perspective. The walk to the Jenny Lind chapel, wherein everyone crowds together for communion followed by Christmas carols.
At this year's service, I spoke with students, current and retired faculty and staff, and community members who all said the same thing—there is a special kind of peace created in this service that spurs devoted attendance. There is something moving about the simplicity and the ritual and even the imperfections in the celebration that people truly love.
Why, in such a well-organized and lovingly scripted event, would I mention imperfections? Because they are awesome, too. They are part of our time together, part of the judgment-free space that most of us so desperately need.
After the service, while being plied with cookies served by members of the local community, I was saying how I kind of love it that I am never sure which Christmas carol is next up—every year, in the dark of the chapel, I find myself flipping back and forth in "A Medley of Christmas Carols" trying to find the current song. In response, a student I had just met excitedly told me about a constant typo in the carol notes. It seems that "Joy, joy" at one point long ago was typed "Joe, joy"—and "Joe" it shall forever be.
I wish I could convey her radiant smile.
Thank you to everyone who works to make this service possible every year. And please do not correct that typo. Joe Joy reminds us that we know this place, this service. That all of us belong.
New Face on Campus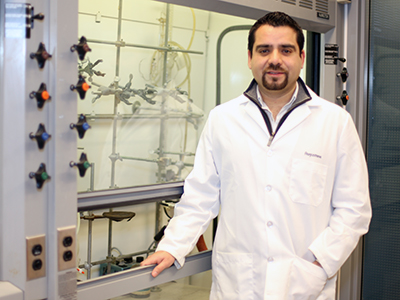 Dr. José Boquin, Assistant Professor of Chemistry
With a chill in the air and his fresh face on campus, you can't help yourself from asking the usual questions about weather when you meet Dr. José Boquin. José arrived in the Midwest just four months ago, and he's quick to say, "I love the seasons." But will he really?
The only son in a tight-knit family, José was born and raised in tropical El Salvador. He did his undergraduate studies at a small liberal arts college—Ave Maria College of the Americas (now Ave Maria University)—in Nicaragua, earning a bachelor's in biology with a minor in chemistry. In 2004 he earned his Ph.D. from Baylor University, Waco, Texas, and then spent two years as a visiting assistant professor at Austin College in Sherman, Texas.
His experiences as a student and a professor at small liberal arts colleges assure José that Augustana students benefit greatly from the learning environment here. "My undergraduate experience shaped the way I think about teaching and learning. One-on-one relationships with students are crucial for learning," he said.
Teaching organic chemistry gives José a chance to work closely with Augie students, whom he describes as "wonderful, engaged and responsible."
Back on the topic of weather, José said, "Everybody is asking me if I'm ready for winter." Even though he's purchased sweaters, coats, boots and gloves, he smiled, laughed and added, "I think I'm in denial."
From the Cabinet
Lynn Jackson, Vice President of Advancement
Often I am asked by campus colleagues and alumni I meet across the country: What are the challenges for Augustana to raise money, especially considering the fiscal cliff?
Through all the economic challenges of the last four years, the college's alumni, parents and friends, corporations and foundations have continued to place a strong value on the education Augustana College provides. They have given generously and consistently, proof of which is in the amount raised in the Authentically Augustana campaign: $152+ million, $52 million over the goal.
This didn't just happen, nor was it luck. Augustana was dedicated to funding the strategic plan, and the Office of Advancement was charged with developing a plan to raise the funds.
The same kind of strategies and relationships are still in place today—they don't stop when a campaign ends. We not only had a very successful campaign, we have an advancement office that is sustainable and focused on the long term. The gift officers and President Bahls met with thousands of alumni and friends over the past years. They still make hundreds of calls each year to raise dollars to support the day-to-day operations of the college (The Augustana Fund), as well endowment for scholarships, faculty chairs and faculty development, programs, and capital for the Center for Student Life, Old Main, the Austin E. Knowlton Outdoor Athletic Complex, and much more.
We know that uncertainties such as the fiscal cliff cause people to be cautious. We continue to hear this as we talk with alumni across the country. Individuals who are philanthropically minded will continue to give to the places close to their hearts, but some are waiting to see how the tax changes next year may or may not affect their ability to give to Augustana. They may end up giving less, since they may have less discretionary funds to give. Tax policy going forward will make a difference, no matter what tax bracket one is in.
Giving to one's college is based on good relationships—between students and faculty, students and a special administrator, students and others in their class. Good relationships make the difference. Our alumni relations staff and the gift officers continue to engage alumni one-on-one and at special events across the country, and this will continue no matter what is happening in Washington.
In the Works
Director of Human Resources Laura Ford authors a perennial series of information and wisdom pertaining to being an employee at Augustana College.
In these days of information overload, we frequently get questions in the HR office about where to find various forms, policies and general information about working at Augustana. We are happy to announce that with the help of colleagues in ITS, we have created a web presence geared specifically to Augustana employees.
It's still a work in progress, but our hope is that it will provide a single source for information, and a place where we can share topics and news of interest to campus employees. Some of the current features include:
• New employee profiles—this will be updated regularly with pictures and profiles as new colleagues join us
• Viking Wellness—a section that will be updated by our campus wellness team
• Rotating stories of news and topics applicable to Augustana employees
• Links and archives of the faculty newsletter and Acknowledge
• Forms, benefits information, policy memos and handbooks
As we continue to develop this webpage, we are happy to take suggestions for additional information or links that would be of assistance.
Seen & Heard
"A holiday Batman? You bet."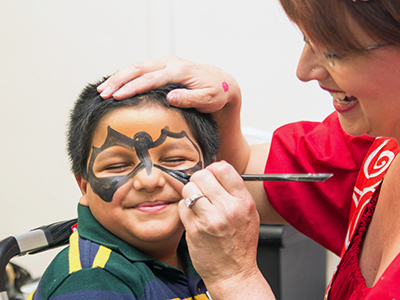 Abhik Mostafa enjoyed himself immensely at the CSD annual Christmas party for children at the Brodahl Building on December 7.
Acknowledge is published by the Office of Communication and Marketing at Augustana College in Rock Island, Illinois. Contact Beth Roberts, editor. Photos in this issue were contributed by Drew Barnes '14, Angelica Lindqvist '16 and Long Nguyen '16 of the Augustana Photo Bureau.