December 12, 2012
19th ranked Vikings win 27-20 at No. 13 Cornell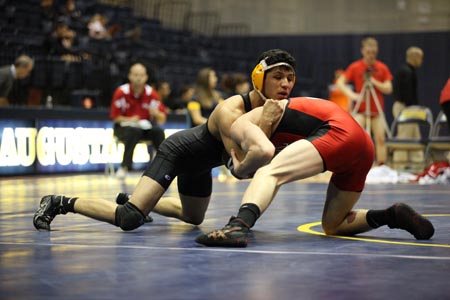 Sophomore Hector Ruiz picked up a 6-2 win at 141 pounds as coach Eric Juergens' 19th-ranked grapplers got a big win Wednesday night, defeating 13th-rated Cornell 27-20 on the road.
MOUNT VERNON, Iowa - A four-match stretch between 157 and 184 pounds gave Augustana the lift it needed on Wednesday, December 12 as Eric Juergens' team picked up a 27-20 win at Cornell. The dual meet featured a pair of teams ranked in the top 20 of the latest NCAA Division III national poll as the Vikings were 19th and the host Rams came into the contest rated 13th.

Augustana got off to a quick start when junior Jacob Scholten (Rockford HS, Grandville, Mich.) moved his individual record to 13-3 with a 14-4 major decision over Ben Rosen at 125 pounds. That gave the Vikings a 4-0 lead. After freshman Jimmy Panozzo (Carl Sandburg HS, Orland Park, Ill.) dropped a 5-1 match to Zachary Henning at 133 to make it 4-3 in the team scoring, sophomore Hector Ruiz (East Aurora HS, Aurora, Ill.) got the Vikings back on track. Ruiz beat Todd Murakawa 6-2 at 141 to put Augustana ahead 7-3. Ruiz is now 12-6 on the year.
A Cornell pin at 149 put the Rams on top 9-7 but the next four weight classes decided the match.
Sophomore Kevin Sundberg (Paw Paw HS, Paw Paw, Mich.) pinned Danny Klema at 2:38 in the 157 pound match to get things started. Sundberg, now 13-7, pushed the Vikings in the lead 13-9. It was a lead they would never relinquish.
Sophomore Torey Welch (Valor Christian HS, Littleton, Colo.), coming off a second place performance at the North Central Invitational last Saturday, shut out Bryce Lightner at 165 pounds by a score of 8-0 to move to 8-6. Senior Matt Burns (Naperville Central HS, Naperville, Ill.) pinned Brent Hamm in 5:47 at 174 and suddenly the score of 23-9. Burns, now 16-2, was coming off a championship performance at the North Central Invitational. Junior Jordan Richardson (Grandville HS, Wyoming, Ill.), also an individual winner at North Central, sealed the win with an 11-3 win over Kevin Stahmer at 184 pounds to make it 27-9 in favor of the Vikings.
Cornell picked up a technical fall at 197 and an injury default at 285 to close the final gap to 27-20.
Augustana, now 3-2 in dual meets on the season, will continue action on Sunday, December 16 at the Florida Duals in Ft. Myers, Florida. The Vikings will wrestle Alma, Heidelberg, Concordia-Wisconsin and SUNY-Oneonta on Sunday.
AUGUSTANA 27, CORNELL 20
125 - Jacob Scholten (A) beat Ben Rosen (CO) 14-4
133 - Zachary Henning (CO) beat Jimmy Panozzo (A) 5-1
141 - Hector Ruiz (A) beat Todd Murakawa (CO) 7-3
149 - Trevor Engle (CO) pinned Walter Piech (A) @ 5:35
157 - Kevin Sundberg (A) pinned Danny Klema (CO) @ 2:38
165 - Torey Welch (A) beat Bryce Lightner (CO) 17-9
174 - Matt Burns (A) pinned Brent Hamm (CO) @ 5:47
184 - Jordan Richardson (A) beat Kevin Stahmer (CO) 11-3
197 - Alex Coolidge (CO) beat Jake Melik (A) 22-7
285 - Carl Gaul (CO) won by injury default over Abe Duran @ 5:13
Augustana is now 3-2 and ranked 19th in NCAA Division III