December 12, 2012
First half costs Vikings in loss at Platteville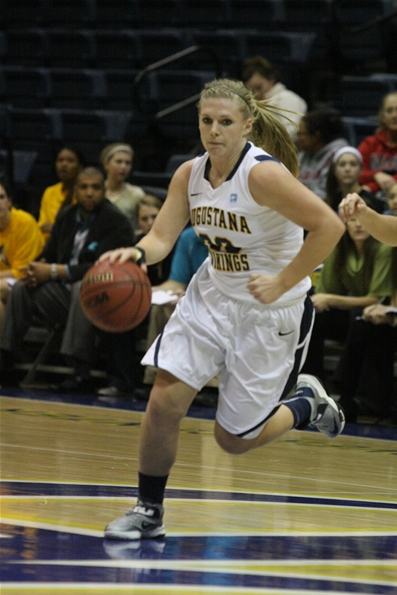 Junior Amy Hicks grabbed a team-high seven rebounds and scored six points but coach Mark Beiborn's Augustana VIkings couldn't overcome an 18-point halftime deficit, falling 68-53 at Wisconsin-Platteville Wednesday night.
PLATTEVILLE, Wis. - A sluggish first half proved to be too much to overcome on Wednesday, December 12 as Augustana dropped a 68-53 decision to Wisconsin-Platteville on the Pioneers home turf at Bo Ryan Court in Williams Arena. The Vikings fell behind by 18 points (42-24) at intermission and could not overcome the large deficit.

First year head coach Mark Beinborn's team held a 35-28 advantage in rebounding but 23 turnovers hurt offensively as did a two for 15 (.133) performance from three point range.
Senior Gianna Pecora (Downers Grove South HS, Darien, Ill.) led the way for the Vikings with 12 points and she was joined in double figures by junior Jessica Baids (West Chicago HS, Carol Stream, Ill.). Junior Amy Hicks (Rockford Christian HS, Rockford, Ill.) pulled down a game-high seven rebounds and added six points.
Kim Wellnitz led UW-Platteville in scoring with 17 points and Elizabeth Lawinger and Alyssa Krajco each dropped in 12 points.
Augustana fell to 3-5 on the season while UW-Platteville moved to 4-6. The Vikings next game will be Saturday, December 15 at Central of Iowa in Pella, Iowa with tip-off set for 2:00 p.m.