December 11, 2012
Vikings move to 7-1 with 84-49 win over Knox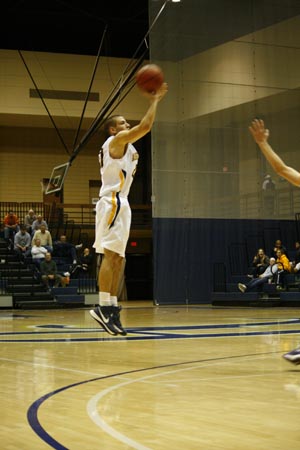 Mark Roth hit five of eight three-point attempts Tuesday night as Augustana defeated Knox 84-49 at Carver Center.
ROCK ISLAND, Ill. - Sophomore Mark Roth (Washington HS, Washington, Ill.) drilled five first-half three-pointers as Augustana took a 21-point halftime lead and cruised to an 84-49 win over Knox at Carver Center. Roth finished with 15 points and was joined in double figures by Ben Ryan (Washington HS, Washington, Ill.) with 14 and Brandon Kunz (Lake Zurich HS, Lake Zurich, Ill.) with 13 as the Vikings led wire-to-wire in improving to 7-1 this season. The loss dropped Knox to 1-6.
Brandon Thompson (Galesburg HS, Galesburg, Ill.) collected the opening tip and drove for a layup to put the hosts ahead 2-0 just five seconds in. Roth's first trey of the night at the 13:18 mark gave Augustana its first double-digit lead at 14-4. A put-back by freshman Jake Gylten (Iowa City West HS, Iowa City, Iowa) with 2:08 left in the half pushed the Viking lead over 20 for the first time at 37-16 and a Ryan follow up seconds later gave Augustana its biggest lead of the opening stanza at 23 points. Roth's fifth three-pointer with five seconds left made it 42-21 at the break.
Coach Grey Giovanine went deep into his bench in the second half with several freshmen logging significant minutes. The youngsters performed well as the lead increased steadily in the second twenty minutes. A basket by Gylten with 3:56 left pushed the margin over 30 for the first time at 73-42 and sophomore Alex Dziagwa (Riverside-Brookfield HS, Brookfield, Ill.) gave the Vikings their biggest lead of the night at 38 (82-44) with a put-back with 50 seconds left. Brandon Motzel's (Carmel Catholic HS, Buffalo Grove, Ill.) alley-oop bucket off a Jake Norcia (Highland Park HS, Highland Park, Ill.) feed twenty seconds later matched that biggest lead before a three-pointer by Knox's Eric Crawford accounted for the final score.
Thompson and Gylten just missed reaching double figures. Each finished with nine points, hitting four of five field goal attempts including their lone three-point attempt. Gylten also grabbed a game-high seven rebounds in 16 minutes, while Dziagwa snared six in 15 minutes of action. David Jones led Knox with nine points.
Augustana shot .561 from the field, hitting 32 of 57 attempts, including seven of 14 (.500) from long range. The Vikings also converted 13 of 17 (.765) free throws. Knox shot just .375 from the floor on 18 of 48. The Prairie Fire hit seven of 20 (.350) three-point attempts and six of 14 (.429) from the line. Augustana held a 34-27 advantage on the boards and turned it over just 11 times to 21 for the visitors.
On Thursday, December 13, the Vikings travel to St. Louis, Missouri to take on Steve Schafer's Fontbonne Griffins. Tip-off is scheduled for 7:00 p.m.