December 11, 2012
2012 MEN'S SOCCER REVIEW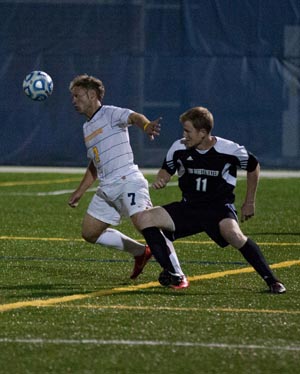 Matt Shipon was a second-team all-conference selection for the Vikings in the 2012 men's soccer season.
Vikings finish 6-9-3 overall and 2-4-1 in the CCIW; Matt Shipon named to All-CCIW 2nd team; Tyler Cowherd earns team MVP award
Augustana completed the 2012 men's soccer season with an overall record of 6-9-3 and a CCIW mark of 2-4-1, finishing in sixth place. Junior midfielder Matt Shipon (South Elgin HS, Elgin, Ill.) earned second team All-CCIW recognition, while junior goalkeeper Tyler Cowherd (Bettendorf HS, Bettendorf, Iowa) was selected as the Vikings' Most Valuable Player.
The season opened with a 4-1 loss at Calvin, a team that would go on to qualify for the NCAA tournament. Augustana then dropped a 5-2 decision at Central, with freshman Jakob Rettke (Columbia-Rock Bridge HS, Columbia, Mo.) scoring both of the Vikings' goals.
Coach Brenton Joseph's squad bounced back by winning three straight matches. The Vikings evened their record at 2-2 by defeating Lawrence 2-1 and Concordia-Chicago 1-0 in Winona, Minnesota. Cowherd went the distance in goal for the shutout against the Cougars. Senior John McSpadden (Geneva HS, Geneva, Ill.) scored twice and sophomore Brett Johnson (Zion Benton HS, Beach Park, Ill.) picked up the shutout as Augustana defeated Principia 2-0 in the team's home opener at Thorson-Lucken Field.
Senior Jason Beckus (Neuqua Valley HS, Naperville, Ill.) scored with three seconds left in regulation as the Vikings tied Wisconsin-Oshkosh 1-1 on the road before suffering consecutive losses to Wisconsin-Whitewater (3-0), Simpson (2-1) and St. Ambrose (2-1).
McSpadden scored and Johnson got the shutout as Augustana opened CCIW play with a 1-0 win at Millikin. Returning to Thorson-Lucken Field, Cowherd made a pair of huge saves in overtime as the Vikings battled their namesakes from North Park, a team that would eventually reach the NCAA tournament second round, to a 1-1 tie. Cowherd's performance in that match earned him CCIW Defensive Player of the Week honors. Augustana recorded consecutive 2-1 wins over Concordia-Moorhead and Carthage to move to 6-5-2 overall and 2-0-1 in the conference. The team's four-match home stand ended with a 4-1 loss to Illinois Wesleyan.
Senior Nick Wolfe's (Neuqua Valley HS, Naperville, Ill.) header in the 79th minute deadlocked the match as the Vikings salvaged a 1-1 tie at Dubuque. Augustana dropped its final three matches of the season to North Central (2-0) at home and to Wheaton (3-0) and Elmhurst (3-1) on the road.
Cowherd, the team's MVP, and Johnson shared time in goal this season and put up remarkable similar numbers. Cowherd went 3-4-2 with a 1.80 goals against average and a save percentage of .653. Johnson posted a 3-5-1 record with a GAA of 1.82 and a .730 save percentage.
Shipon was the team's only All-CCIW representative, earning second team honors. He scored one goal and tied juniors Michael Buric (Notre Dame Prep, Phoenix, Ariz.) and Josh Bennett (Wheaton North HS, Winfield, Ill.) for the team lead with two assists. Bennett was voted the Vikings' "Best Offensive Player," with junior defender Evan Johnson (Glenbard South HS, Glen Ellyn, Ill.) taking "Best Defensive Player" honors. Freshman defender Erik Gustafson (Cary-Grove HS, Cary, Ill.) was selected as the program's "Newcomer of the Year."
Rettke, McSpadden and Wolfe were Joseph's leading scorers this season. Each scored three goals and had one assist. Bennett finished with two goals and two assists. Beckus and freshman Patrick Nelson (Jacksonville HS, Jacksonville, Ill.) each scored two goals and had one assist.
In addition to Cowherd, Brett Johnson and Evan Johnson, Augustana's defensive leaders this season included Gustafson, freshman Cole Collins (Lisle HS, Lisle, Ill.) and junior Kyle Polanco (Lincoln-Way North HS, Frankfort, Ill.) as well as Buric, who battled injuries after a second team All-CCIW season in 2011.
2012 CCIW MEN'S SOCCER STANDINGS
| | | | | |
| --- | --- | --- | --- | --- |
| School | CCIW | Pct. | Overall | Pct. |
| Wheaton | 6-0-1 | .929 | 18-4-3 | .780 |
| North Park | 5-0-2 | .857 | 13-3-5 | .738 |
| Carthage | 4-3 | .571 | 14-6 | .700 |
| Illinois Wesleyan | 4-3 | .571 | 11-6 | .647 |
| North Central | 3-4 | .429 | 11-7 | .611 |
| Augustana | 2-4-1 | .357 | 6-9-3 | .417 |
| Millikin | 1-6 | .143 | 5-12 | .294 |
| Elmhurst | 1-6 | .143 | 9-10 | .474 |
2012 CCIW MEN'S SOCCER TOURNAMENT
Semifinal - Wednesday, October 31
#1 Wheaton 5, #4 Illinois Wesleyan 0
#2 North Park 3, #3 Carthage 2
Championship - Saturday, November 3
Wheaton 1, North Park 1 (Wheaton advances 4-1 on penalty kicks)
2012 AUGUSTANA MEN'S SOCCER SUPERLATIVES
ALL-CCIW: Matt Shipon, 2nd team
CCIW PLAYER OF THE WEEK: Defensive - Tyler Cowherd (10/09/12)
CCIW STATISTICAL TOP 5 - INDIVIDUAL
Game-Winning Goals -John McSpadden, Evan Johnson, T-4th @ 1
Save Percentage - Tyler Cowherd, 4th @ .737
Saves Per Game - Tyler Cowherd, 5th @ 4.67
Shutouts - Brett Johnson, T-2nd @ 1
INDIVIDUAL TOP TEN LISTS
None
TEAM AWARDS
MVP -Tyler Cowherd
Best Offensive Player - Joshua Bennett
Best Defensive Player - Evan Johnson
Newcomer of the Year - Erik Gustafson