December 10, 2012
Taylor Moesle voted MVP in women's soccer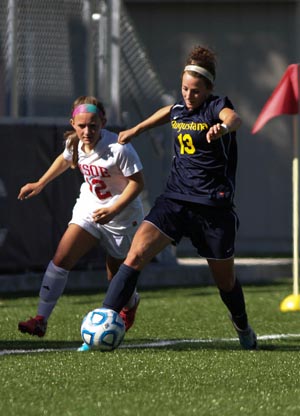 Junior Allison Frickman was voted "Most Improved Player" by her teammates for the 2012 season.
After a College Conference of Illinois & Wisconsin championship, Augustana announced its award winners for the 2012 women's soccer season. Senior Taylor Moesle (Carl Sandburg HS, Orland Park, Ill.), junior Maggie Hoscheit (St. Charles East HS, St. Charles, Ill.), junior Allison Frickman (Loveland HS, Loveland, Colo.) and freshman Kelly Farell (St. Ursula Academy, Sylvania, Ohio) pulled down the major awards.
Moesle was the winner of both the Iron Viking Award and Most Valuable Player while Hoscheit was the Most Valuable Defensive Player and Frickman was the Most Improved Player. Farell garnered Most Valuable Offensive Player honors.
Moesle completed a season where she was named the Most Valuable Player in the College Conference of Illinois & Wisconsin and was named to the all-conference team for the third straight season. She was also named first-team NCAA Division III All-American by the National Soccer Coaches Association.
She scored 12 goals and was credited with a school record 12 assists as she helped lead veteran head coach Scott Mejia's Vikings to a 16-5 overall record and a perfect 7-0 mark in the CCIW. Augustana won the league title for the second time in the last four years and participated in the NCAA Division III national tournament for the fifth time in the program's history and the third time in the last four years.
Moesle is now a two-time All-American (to go along with a first-team selection her sophomore year) and ended her career with 40 goals, 29 assists and 109 points. She finished her time at Augustana ranked second in career assists, third in points and fourth in goals.
Farell was the "Freshman of the Year" in the CCIW after she burst on the scene with a team-leading 13 goals along with 11 assists for a team-high 37 points. She was a first team all-conference selection.
Hoscheit won all sorts of honors in 2012. She was named to the Capital One Academic All-American team and was also chosen as the winner of the Jack Swartz Award in the CCIW for her combination of athletic prowess and academic excellence. She was a first-team all-conference performer and helped anchor a defense that allowed just 22 games in 21 matches this season for a goals-against-average of 1.08. Augustana recorded eight shutouts and gave up only 11.3 shots per game.
Frickman was called on to play a variety of positions for the Vikings this fall and finished with one goal. She was a mid-fielder when the season began but, due to some injuries, was moved to defense for the final third of the campaign.
2012 AUGUSTANA VIKINGS WOMEN'S SOCCER LETTERWINNERS
| | | | | | |
| --- | --- | --- | --- | --- | --- |
| NO | PLAYER | POS | HT | YR | HOMETOWN/HIGH SCHOOL |
| 0 | Meredith Chew* | GK | 5-8 | Fr | Phoenix, Ariz./Paradise Valley |
| 01 | Bridget McDermott**** | GK | 5-7 | Sr | Mt. Prospect, Ill./HS |
| 02 | Jackie Luka** | M | 5-4 | So | Gurnee, Ill./Warren Township |
| 04 | Stephanie Barr** | M | 5-6 | Jr | Plainfield, Ill./North |
| 05 | Courtney Linn*** (C) | M | 5-8 | Sr | Bettendorf, Iowa/Pleasant Valley |
| 06 | Kimberly Grimmer* | B | 5-6 | So | Woodridge, Ill./Downers Grove South |
| 07 | Maggie Hoscheit*** (C) | B | 5-6 | Jr | St. Charles, Ill./East |
| 08 | Taylor Moesle**** (C) | M | 5-9 | Sr | Orland Park, Ill./Carl Sandburg |
| 09 | Somer Druszkowski* | M | 5-4 | Fr | Manhattan, Ill./Lincoln Way Central |
| 10 | Lisette Cuvala-Jurado** | M | 5-3 | Jr | Lombard, Ill./Glenbard East |
| 11 | Taylor Navarro** | M | 5-5 | So | Elmhurst, Ill./York Community |
| 12 | Morgan Olsen** | B | 5-3 | Sr | Woodridge, Ill./Downers Grove North |
| 13 | Ally Frickman*** | M | 5-2 | Jr | Loveland, Colo./HS |
| 14 | Alexandra Jones* | M | 5-5 | Fr | Peoria, Ill./Peoria Christian |
| 15 | Stef Hamaker* | B | 5-6 | Fr | Caledonia, Ill./Boylan Catholic |
| 16 | Merrill Clayton* | B | 5-5 | Jr | Westminster, Colo./Legacy |
| 17 | Kortney Hix* | M | 5-5 | Fr | Highlands Ranch, Colo./Mountain Vista |
| 18 | Rachel Lenke*** | M | 5-7 | Sr | Mount Prospect, Ill./HS |
| 19 | Rachel Stemplewski* | B | 5-6 | So | Gurnee, Ill./Warren Township |
| 20 | Kelly Farell* | F | 5-4 | Fr | Sylvania, Ohio/St. Ursula Academy |
| 21 | Amanda Tucker* | M | 5-2 | Jr | Crete, Ill./Crete-Monee |
| 22 | Kirsten Boesen**** | M | 5-9 | Sr | Gibson City, Ill./Normal West |
| 23 | Jessica Kras* | F | 5-2 | Fr | Carol Stream, Ill./Glenbard North |
| 24 | Haley Fox* | B | 5-7 | So | Davenport, Iowa/Assumption |
| 26 | Briana Clark** | F | 5-6 | Jr | LaGrange, Ill./Nazareth Academy |
| 27 | Kaitlyn Allen* | GK | 5-6 | So | Elgin, Ill./South |
| 32 | Kerri Skotnicki** | B | 5-3 | So | Aurora, Ill./Waubonsie Valley |
(C) - Denotes team captains
* - Denotes letters won
HEAD COACH: Scott Mejia
ASSISTANT COACHES: Cherie Clark, Keri Hess