December 10, 2012
Cowherd grabs MVP honors in men's soccer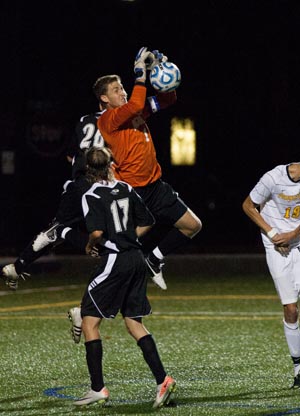 Junior Tyler Cowherd was selected as the Most Valuable Player for the 2012 Augustana men's soccer team.
Junior goalkeeper Tyler Cowherd (Bettendorf HS, Bettendorf, Iowa) has been chosen as the most Valuable Player for the 2012 Augustana men's soccer team. The Vikings finished the 2012 campaign with a 6-9-3 overall record and a 2-4-1 mark in the College Conference of Illinois & Wisconsin.
Junior defender Evan Johnson (Glenbard South HS, Glen Ellyn, Ill.) was named as the Best Defensive Player while sophomore Joshua Bennett (Wheaton North HS, Winfield, Ill.) took down Best Offensive Player honors. Freshman Erik Gustafson (Cary-Grove HS, Cary, Ill.) was the "Newcomer of the Year".
Cowherd

played in nine games this past fall, all of them as a starter and he logged 850 minutes worth of action. He came up with 32 saves and posted a 3-4-2 overall record. He gave up 17 goals and had a goals-against-average of 1.80. He also picked up an assist during a 2-1 victory over Carthage on October 10. Johnson was the top defender for the Vikings, who allowed an average of 13.8 shots per game. He also scored a goal and had eight shots, five of them on-goal. Bennett played in 15 games and scored two goals with two assists for a total of six points. He had 17 shots, 10 of which were on-goal. Gustafson, a defender, finished the year with five shots, one of them on-goal.
2012 AUGUSTANA VIKINGS MEN'S SOCCER LETTERWINNERS
| | | | | | | |
| --- | --- | --- | --- | --- | --- | --- |
| NO | NAME | POS | HT | WT | YR | HOMETOWN/HIGH SCHOOL |
| 01 | Tyler Cowherd*** (C) | GK | 6-1 | 175 | Jr | Bettendorf, Iowa/HS |
| 02 | Chandler Brooks** | M | 6-1 | 165 | So | Bloomington, Ill./University |
| 03 | Jason Beckus**** (C) | D | 5-11 | 185 | Sr | Naperville, Ill./Neuqua Valley |
| 04 | Andrew Smith* | M | 6-0 | 165 | Fr | Galesburg, Ill./Galesburg |
| 05 | Kevin Wyrostek**** | M | 5-11 | 182 | Sr | Naperville, Ill./North |
| 06 | Cole Collins* | M | 5-6 | 145 | Fr | Lisle, Ill./HS |
| 07 | Matt Shipon*** | M | 5-9 | 170 | Jr | Elgin, Ill./South |
| 08 | Grant Halter*** | M | 5-11 | 138 | Jr | Glen Ellyn, Ill./Glenbard West |
| 09 | DJ Lawlor* | F | 5-8 | 128 | Jr | Tinley Park, Ill./Lincoln Way North |
| 10 | Kyle Polanco** | D | 5-6 | 136 | Jr | Frankfort, Ill./Lincoln Way North |
| 11 | Jakob Rettke* | F | 6-2 | 180 | Fr | Columbia, Mo./Columbia-Rock Bridge |
| 12 | Vincenzo Dal Pozzo** | F | 6-2 | 160 | So | Naperville, Ill./Neuqua Valley |
| 14 | Gabriel Brouillette* | F | 5-10 | 150 | Fr | Mundelein, Ill./Carmel |
| 15 | Josh Bennett* | F | 5-10 | 155 | So | Winfield, Ill./Wheaton North |
| 16 | Nathan Kyes** | M | 5-9 | 150 | So | Oswego, Ill./HS |
| 17 | Nick Wolfe**** | M | 5-7 | 137 | Sr | Naperville, Ill./Neuqua Valley |
| 18 | John McSpadden*** | F | 6-2 | 180 | Jr | Geneva, Ill./HS |
| 19 | Evan Johnson*** | M | 6-5 | 170 | Jr | Glen Ellyn, Ill./Glenbard South |
| 21 | Adam Bengfort** | D | 5-11 | 175 | So | Davenport, Iowa/Assumption |
| 22 | Erik Gustafson* | D | 5-10 | 150 | Fr | Cary, Ill./Cary-Grove |
| 23 | Ryan Muzzarelli* | D | 5-7 | 140 | Fr | Geneva, Ill./HS |
| 24 | Michael Buric*** | D | 5-11 | 180 | Jr | Scottsdale, Ariz./Notre Dame Prep |
| 27 | Ian Deggendorf* | F | 5-6 | 140 | Fr | Liberty, Mo./St. James Academy |
| 29 | Patrick Nelson* | M | 5-11 | 160 | Fr | Jacksonville, Ill./Jacksonville |
| 37 | Brett Johnson** | GK | 6-1 | 170 | So | Beach Park, Ill./Zion Benton Township |