December 10, 2012
Leazer named MVP for volleyball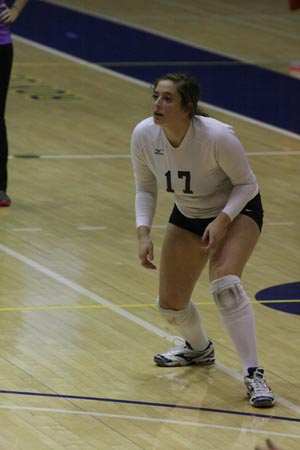 Sophomore Julee Morrison was selected as the Most Improved Player for the Vikings in 2012-13.
Sophomore outside hitter Emily Leazer (St. Viator HS, Mt. Prospect, Ill.) put together a tremendous season and was named Augustana's Most Valuable Player, it was announced at the team's annual volleyball awards dinner on Sunday, December 9. Leazer helped the Vikings of third year head coach Jamie Walters compile a 20-11 overall record in the 2012 season.
Leazer set a new school record with an average of 0.91 service aces per set, well ahead of the previous record of 0.63 set by Mandy Murray in 2001. She ended the season ranked sixth in NCAA Division III in service aces per game. With two full seasons left to play she already ranks seventh on Augustana's career list for service aces with 136. This past year she led the Vikings in kills with 397 and solo blocks with 16 and was second on the team in digs with 317. Her average of 3.61 kills-per-set this year is the fifth-best in school history. She had 31 kills against Wheaton on October 23 and that is tied for second-best all-time for Augustana in a single match.
Leazer was named to the all-conference team in the College Conference of Illinois & Wisconsin and was also selected to the Capital One Academic All-District team.
Sophomore Julee Morrison (Chaparral HS, Scottsdale, Ariz.) was selected as the team's Most Improved Player. She saw action in 41 sets and recorded 86 digs as a defensive specialist. She had seven service aces and three setting assists. The Augie Award went to sophomore Samantha Kammerman (Sherrard HS, Milan, Ill.). Kammerman, who switched to middle hitter early in the year and then moved to right-side, played in 100 sets. She was fifth on the team in kills with 110 for a 1.10 per-game average. She had 48 total blocks (11 solo and 37 assists) with 49 digs and 32 service aces. The Freshman of the Year went to libero Kylie Siebert (Kaneland HS, Sugar Grove, Ill.). Siebert played in 107 games and led the team in digs with 475 for an average of 4.44 per set, which is 10 th-best in school history. She had 44 digs in a match against Dubuque, tying the fifth highest total in school history. She was also second on the team with 39 service aces.
Freshman outside hitter Katie Bindon (Fenwick HS, Elmhurst, Ill.) was named the junior varsity MVP. Freshman Kayla Bushey (Luther North HS, Chicago, Ill.) was the junior varsity's Most Improved Player and freshman Paige Smith (Buffalo Grove HS, Buffalo Grove, Ill.) was tabbed as the Augie Award winner for the junior varsity.
2012 AUGUSTANA VOLLEYBALL LETTERWINNERS
| | | | | |
| --- | --- | --- | --- | --- |
| NAME | POS | HT | YR | HOMETOWN (HIGH SCHOOL) |
| Katrina Colclasure*** (C) | DS/S | 5-5 | Jr | Bloomington, Ill./Tri-Valley |
| Amber Dalgaard | DS | 5-6 | So | Antioch, Ill./HS |
| Dory Dudley** | OH/RS | 5-10 | So | Tremont, Ill./HS |
| Jordan Hampel* | S | 5-6 | Fr | Hilliard, Ohio/Hilliard Davidson |
| Samantha Kammerman** | OH | 5-9 | So | Viola, Ill./Sherrard |
| Katie Keller* | MB | 5-10 | So | Addison, Ill./HS |
| Emily Leazer** | OH | 5-9 | So | Mt. Prospect, Ill./St. Viator |
| Martha Murray* | OH | 5-10 | Fr | Evanston, Ill./Township |
| Julee Morrison** | DS | 5-5 | So | Scottsdale, Ariz./Chaparral |
| Stephanie Petkovsek* (C) | S | 5-7 | So | Lisle, Ill./HS |
| Kylie Siebert* | DS | 5-5 | Fr | Sugar Grove, Ill./Kaneland |
| Morgan Stittleburg*** | RS | 5-11 | Jr | Black River Falls, Wis./HS |
| Blaire Theuerkauf* | RS | 5-9 | So | Batavia, Ill./HS |
| Sarah Williams*** (C) | MB | 5-9 | Sr | Loves Park, Ill./Rockford Lutheran |