December 8, 2012
Burns, Richardson champions at North Central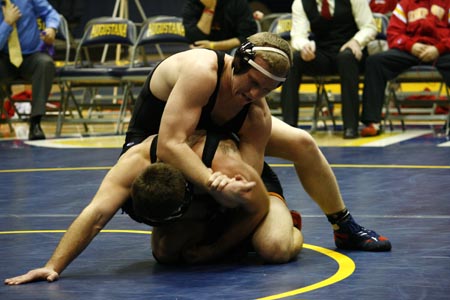 Matt Burns won the 174-pound weight class and teammate Jordan Richardson claimed the title at 184 pounds Saturday to help Augustana finish second at the North Central College Invitational.
NAPERVILLE, Ill. - Behind Matt Burns (Naperville Central HS, Naperville, Ill.) and Jordan Richardson (Grandville HS, Wyoming, Mich.), who won championships at 174 and 184 pounds, respectively, Augustana claimed a second-place team finish at Saturday's North Central College Invitational. The 19th-ranked Vikings (134.5) finished behind only 11th-rated Wabash (140) and ahead of ninth-ranked Wisconsin-Whitewater (102), which finished third in the 10-team field.
Burns, a senior and Richardson, a junior, led a total of 15 place-winners for Augustana.
Burns opened with a 20-1 technical fall against Kyle Perea of Milwaukee School of Engineering, then pinned Lakeland's Wesley Colton in 5:33 to reach the semifinals. There, he topped fourth-seeded Steven Burling of North Central 5-3 and then pinned second-seeded Matt McCrary of Wheaton in 6:13 for the championship.
Richardson was dominant in his four wins, scoring a 17-5 major decision over Lakeland's Eddie Terres in the first round. He followed that with back-to-back falls, pinning Concordia's John Hinson in 3:52 and fourth-seeded Justin Birschbach of UW-Whitewater in 3:35 to reach the championship match. He claimed the title with a 12-2 major decision over Mt. St. Joseph's Tyler Ray.
The Vikings took second and third at 125 pounds. Junior Jacob Scholten (Rockford HS, Grandville, Mich.) dropped a tough 6-5 decision to Concordia's Sean Ambrocio in the championship and freshman Jimmy Panozzo (Sandburg HS, Orland Park, Ill.) scored a 10-2 major decision over Tommy Poynter of Wabash in the third-place match. After a first round bye, Scholten pinned Alec Noa of Lakeland in 4:40 and scored an 11-4 win over Poynter to reach the finals. Panozzo opened with a 17-5 major decision over Joe Meylor of UW-Whitewater and defeated North Central's Nicolas Santos 5-1 in the second round. He fell to Ambrocio 13-6 in the semis, but bounced back to take the third-place match.
Also earning second-place finishes for Augustana were sophomores Torey Welch (Valor Christian HS, Littleton, Colo.) at 165 pounds and John Schraidt (Riverside-Brookfield HS, Riverside, Ill.) at 285 pounds.
After a first-round bye, the unseeded Welch scored a 19-4 technical fall over top-seeded Lenny Kuspa at Concordia and followed that up with a 6-4 decision over Wabash's Ethan Farmer, the fourth seed. Welch's run came to an end in the finals with a 5-3 setback to third-seeded Cory Disbennett of Mt. St. Joseph. Sophomores Thomas Reyhons (Assumption HS, Davenport, Iowa) and Alex Bowers (Noblesville HS, Noblesville, Ind.) finished fifth and sixth, respectively, at 165 pounds.
Schraidt opened with consecutive pins of Concordia's Ryan Cook (1:48) and Iain Buckler of Mt. St. Joseph (2:49) before scoring a 3-2 decision over Wabash's Abraham Hall in the semis. UW-Whitewater's Anthony Edgren scored a 54-second fall over Schraidt in the championship match. Junior Abe Duran (East Aurora HS, Aurora, Ill.) took fourth at 285, pinning North Central's Chris James in 6:40 before going down in 5:33 to Hall. In wrestlebacks he pinned A.J. D'Alberto of Concordia in 1:14 and Buckler in 1:16 before claiming a 2-1 victory over Dylan Mahler of North Central. He dropped the third-place match to Hall by an 8-0 major decision. Sophomore Jack Seaman (Munster HS, Munster, Ind.) won the 285-pound fifth-place match, pinning Mahler in 2:03.
Sophomores Hector Ruiz (East Aurora HS, Aurora, Ill.), at 141 and Walter Piech (Lincoln-Way East HS, Mokena, Ill.), at 149, each claimed third-place finishes.
After an opening-round bye, Ruiz scored consecutive wins over MSOE's Joseph Larson (fall in 2:34) and Matt Adcock of UW-Whitewater (5-1), before suffering a 5-0 semifinal loss to top-seeded Nathan Fitzenreider of North Central. He bounced back with a 6-2 win over Wabash's Michael Venezia to reach the third-place match, where he took care of UW-Whitewater's Garrett Whitehead by a score of 8-6.
At 149 pounds, Piech received a first-round bye and then scored an 11-0 major decision over MSOE's Dallas Schurg. He fell 6-1 to top-seeded Greg Sanders of Concordia in the semifinals, but rebounded with a pin of Wabash's Kyle Nardi (1:20) and a 3-2 win over UW-Whitewater's Tom Gerszewski in the third-place match. Sophomore David Tessiatore (Downers Grove North HS, Downers Grove, Ill.) took sixth, falling 5-3 to Nardi in the fifth-place match.
Sophomore Cody Weitzel (Valor Christian HS, Englewood, Colo.) took fifth at 133 pounds and classmate Kevin Sundberg (Paw Paw HS, Paw Paw, Mich.) finished sixth at 157.
Host North Central (80) finished fourth in the team standings, followed by Mt. St. Joseph (72.5) and Concordia (56.5). Wheaton (18.5) finished seventh, with MSOE (17), Lakeland (13.5) and Knox (5.5) rounding out the field.