December 8, 2012
Second half costs Vikings at #7 UW-Stevens Point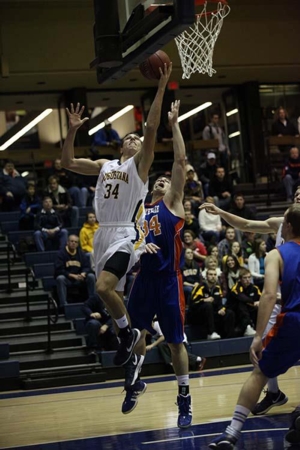 Freshman forward Ben Ryan posted his third double-double of the young season Saturday with 11 points and 10 rebounds, but Augustana fell 67-59 to seventh-ranked UW-Stevens Point on the road.
STEVENS POINT, Wis. - After forging a three point lead at halftime, Augustana was unable to hold on and fell 67-59 at seventh ranked Wisconsin-Stevens Point on Saturday, December 8. In a battle of undefeated teams, the Vikings were unable to maintain the defensive level in the second half that produced the advantage at intermission.

In the first 20 minutes of play Augustana shot .500 (10-20) from the field while holding the Pointers to just .310 (9-29) shooting. The result was a 28-25 lead at halftime. In the second half the tables turned and with 15:33 left in the game the home team took the lead for good when Trevor Hass nailed a three point field goal to make it 37-34.

Viking freshman Ben Ryan (Washington HS, Washington, Ill.) hit a basket with 7:26 to play to make it a one-point game and cut the deficit to 49-48. The Pointers then put on a 13-3 run to pull ahead 61-52 after Tyler Tillema's basket with 1:21 to play. The Vikings cut it to six points on three separate occasions in the final 45 seconds, the last with just :23 to play when sophomore Danielius Jurgutis (Downers Grove South HS, Darien, Ill.) scored to make it 65-59. That was as close as head coach Grey Giovanine's club would get however.

Senior Brandon Kunz (Lake Zurich HS, Lake Zurich, Ill.) led Augustana in scoring with 13 points on five of seven from the field and three of five from the charity stripe. He grabbed four rebounds as well. Ryan added 11 points and a game high 10 rebounds and Jurgutis was also in double figures with 10 points. Freshman Griffin Pils (Libertyville HS, Libertyville, Ill.) had a productive game with seven points, five rebounds and three assists.

After shooting 50 percent from the field in the first half, however, the Vikings hit on just .382 (13-34) in the final 20 minutes. By contrast, UW-Stevens Point hit .481 (13-27) in the second half after struggling from the field in the first stanza. Clayton Heuer led the victors in scoring with 20 points as he was good on eight of 11 from the floor and four of five from the free throw line. Tyler Tillema had 15 and Hass scored 13.

Augustana, which had been receiving votes in the D3hoops.com national poll, fell to 6-1 while the Pointers went to 7-0. The Vikings will be at home on Tuesday, December 11 against Knox at 7:30 p.m.