December 8, 2012
Vikings battle sixth ranked Washington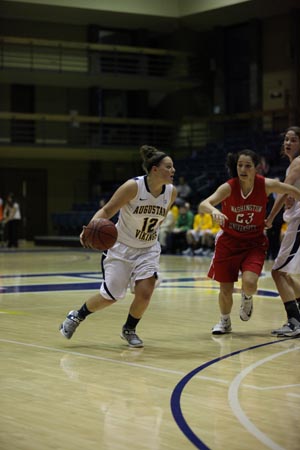 Junior Molly Etheridge scored a game high 18 points as Augustana fell to Washington 74-61 on Saturday, December 8.
ROCK ISLAND, Ill. - Giving up 25 offensive rebounds proved to be a statistic that was too big to overcome as Augustana dropped a 74-61 decision at home to sixth ranked Washington on Saturday, December 8 in the Carver Center. The Vikings played tough against the Bears but were on the short end of a 46-32 rebounding deficit, with 25 of those coming on Washington's offensive end.
Those second chance opportunities provided the visitors with 24 points and that margin ended up being pivotal in the contest. Washington put four players in double figures with Melissa Gilkey dropping in a team-high 15 points and snaring 13 rebounds while teammate Maddy Scheppers had 12 points and 11 rebounds.
The game was back and forth in the early going and freshman Alexandria Lee (Elgin St. Edwards HS, West Dundee, Ill.) scored with 9:55 to play in the first half and the Vikings led 9-8. From that point until the end of the half, however, Washington went on a 25-9 run to take a 33-18 advantage at intermission.
In the second half the Bears outscored Augustana 11-7 in the first four minutes and with 15:55 left to play held a comfortable 19 point lead at 44-25. The Vikings kept chipping away and when junior Molly Etheridge (Normal Community HS, Bloomington, Ill.) hit a three point field goal with 7:57 left, the margin was down to just seven points (57-50). Etheridge's basket capped a 25-13 run.
With 3:52 to play the lead was still in double digits following a basket by freshman Marissa Pezzopane (Addison Trail HS, Wood Dale, Ill.) that made it 61-52. Washington scored nine of the game's next 11 points and with 1:07 left it was a 16 point lead (70-54).
Etheridge led Augustana in scoring with 18 points before fouling out with 1:25 left to play. Junior Jessica Baids (West Chicago HS, Carol Stream, Ill.) was also in double figures with 13 points. The top rebounder for head coach Mark Beinborn's team was senior point guard Gianna Pecora (Downers Grove South HS, Darien, Ill.) with five and she also was tops in assists with three.
The Vikings held Washington to just .364 shooting (24-66), including 0-9 from three point range. The Bears did manage 33 trips to the free throw line where they sank 26.
Augustana will now travel to Platteville, Wisconsin on December 12 to face Wisconsin-Platteville.