December 7, 2012
Augustana men top Loras 158-73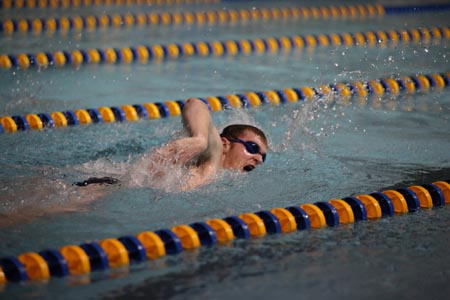 Sophomore Michael Duy won the 200 freestyle and swam on Augustana's winning 200 freestyle relay Friday as the Vikings defeated Loras 158-73 at Carver Center Pool.
ROCK ISLAND, Ill.-Sophomore Michael Duy (Marmion Academy, Aurora, Ill.) was one of eight individual event winners for Augustana Friday as the Vikings defeated Loras 158-73 at the Carver Center Pool. Duy's time of 1:50.05 won the 200 freestyle and he also swam on Augustana's winning 200 freestyle relay unit.

Sophomore Aaron Holt (Mount Vernon HS, Mount Vernon, Ill.) claimed two individual events, winning the 100 butterfly in :53.85 and the 50 freestyle in :22.49. He also led off the winning 200 freestyle relay (1:31.25), followed by senior Christopher Greaves (Morris HS, Morris, Ill.), Duy and junior Daniel Hinck (Harlem HS, Loves Park, Ill.).
Hinck was a winner in the 100 freestyle, finishing in :50.81. Other Viking winners included sophomore Josh Wielenga (School of Environmental Studies, Apple Valley, Minn.) in the three-meter diving competition (212.15), freshman Adam Bernardi (Boylan Catholic HS, Belvidere, Ill.) in the 200 individual medley (2:05.21), freshman Kyle Johnson (Shadow Mountain HS, Phoenix, Ariz.) in the 100 backstroke (:57.61) and junior Justin Reppy (Oswego HS, Oswego, Ill.) in the 500 freestyle (5:03.77).
Augustana also won the 200 medley relay behind Johnson, freshmen Felipe Hernandez (United Township HS, East Moline, Ill.) and David Sommers (Westlake HS, Thousand Oaks, Calif.) and Reppy. That foursome finished in 1:43.96.
Wielenga compiled 203.10 points to finish second in the one-meter diving competition. Hinck, Sommers and junior Austin Zarbuck (Urbana HS, Urbana, Ill.) finished second, third and fourth in the 1000 freestyle, swimming 10:44.77, 10:48.23 and 11:07.18, respectively. Hernandez (1:04.95), Bernardi (1:07.08) and junior Ryan Chaney (Pleasant Valley HS, Bettendorf, Iowa) (1:09.17) did the same in the 100 breaststroke.
Greaves (1:50.93) and Reppy (1:50.93) were second and fourth behind Duy in the 200 freestyle and Sommers (:55.36) and sophomore Alexander Putz (Oak Forest HS, Oak Forest, Ill.) (1:00.48) went second and fourth behind Holt in the 100 butterfly and Hernandez. Greaves and freshman Austin Small (Morris HS, Morris, Ill.) swam respective times of :58.16 and 1:00.60 to finish second and fourth behind Johnson in the 100 backstroke and Hernandez (2:06.47) and Chaney (2:17.19) claimed the same spots behind Bernardi in the 200 IM.
In the 500 freestyle, it was Duy (5:05.46) and Zarbuck (5:19.33) taking third and fourth behind Reppy, while Junior Jasen Hengst (Bettendorf HS, Bettendorf, Iowa) (:52.66) and sophomore Timothy Michaels (Pella HS, Pella, Iowa) (:52.93) had similar finishes behind Hinck in the 100 freestyle.
Hengst and Michaels finished third and fifth in the 50 freestyle with respective times of :23.97 and :24.62.
Coach Scott Johannsen's Vikings are now idle until a January 11 dual meet against Coe in Cedar Rapids, Iowa.