December 6, 2012
Vikings split home opener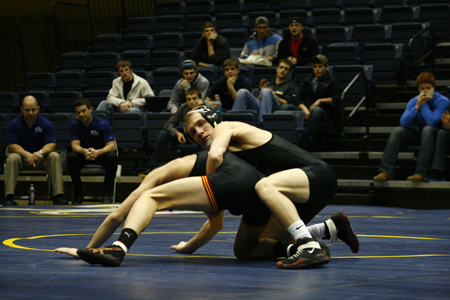 Junior Jacob Scholten won a pair of matches on Thursday night to push his individual record to 10-2 on the season. He pinned Simpson's Sam Reichenbacker (shown here) at 1:26 at 133 pounds and then beat Daniel Page of Central of Iowa 4-2 at 125 pounds.
In a battle between a pair of top-20 teams in the NCAA Division III national ranking, Augustana fell to Central of Iowa at home by a score of 27-12 on Thursday, December 6. Earlier in the evening, the Vikings defeated Simpson 38-13.
This was the first home match of the season for head coach Eric Juergens' team, which came into the night ranked 19th in the latest national poll. Central of Iowa was rated 16th. Augustana is now 2-2 on the year after splitting the evening's contests.
Senior Matt Burns (Naperville Central HS, Naperville, Ill.) and juniors Jacob Scholten (Rockford HS, Grandville, Mich.) and Jordan Richardson (Grandville HS, Wyoming, Mich.) all won both matches for the Vikings.
The Vikings will now compete at the North Central Invitational on Saturday, December 8 in Naperville, Illinois.
AUGUSTANA 38, SIMPSON 13
In the opening match of the night the Vikings jumped out to a 12-0 lead on the storm. Freshman Jimmy Ponozzo (Carl Sandburg HS, Orland Park, Ill.) picked up a forfeit at 125 and Scholten pinned Sam Reichenbacker at 1:26 of the 133 pound match. Simpson won the next two weight classes, one by a fall, to trim the margin to 12-9 heading into the 157 pound weight class.
Sophomore Kevin Sundberg (Paw Paw HS, Paw Paw, Mich.) started a string of four straight Augustana victories when he pinned Cory Stratton at 4:16 of the 157 pound bout. Sophomore Connor Cummings (Downers Grove North HS, Woodridge, Ill.) beat Greg Harlow 11-2 at 165 and Burns followed that with a pin of Brett Roberts at the 5:34 mark at 174 pounds. Richardson beat Taylor Weitzel 8-0 at 184.
Sophomore John Schraidt (Riverside-Brookfield HS, Riverside, Ill.) closed out the match for the Vikings with a pin just 1:08 into the 285 pound weight class.
#16 CENTRAL OF IOWA 27, #19 AUGUSTANA 12
In a battle of top 20 teams, the Dutch prevailed 27-12, winning six of the 10 weight classes.
Augustana won two of the first three with Scholten beating Daniel Page 4-2 at 125 and sophomore Hector Ruiz (East Aurora HS, Aurora, Ill.) squeaking out a 5-4 victory over TJ Peretti at 141.
Central won the next three weight classes before Burns defeated Dusty Fellows 6-5 at 174 and Richardson beat Tyler Lowey 10-3 at 184.
AUGUSTANA WRESTLING
December 6, 2012
Carver Center
Rock Island, Illinois
6:30 p.m. #19 Augustana 38, Simpson 13
125 - Jimmy Ponozzo (A) won by forfeit
133 - Jake Scholten (A) pinned Sam Reichenbacker (S) @ 1:26
141 - Jeff Sand (S) beat Hector Ruiz (A) 7-3
149 - Jason Clark (S) pinned David Tessiatore (A) @ 3:28
157 - Kevin Sundberg (A) pinned Cory Stratton (S) @ 4:16
165 - Connor Cummings (A) beat Greg Harlow (S) 11-2
174 - Matt Burns (A) pinned Brett Roberts (S) @ 5:34
184 - Jordan Richardson (A) beat Taylor Weitzel (S) 8-0
197 -Jared Bevins (S) beat Seth Whan (A) 13-0
285 - John Schraidt (A) pinned Tony Saucedo (S) @ 1:08
7:45 p.m. #16 Central of Iowa 27, #19 Augustana 12
125 - Jake Scholten (A) beat Daniel Page (CI) 4-2
133 - Aaron Anderson (CI) beat Jimmy Ponozzo (A) 8-6
141 - Hector Ruiz (A) beat TJ Peretti (CI) 5-4
149 - Ryan Davis (CI) beat Walter Piech (A) 2-1
157 - Joseph Atwell (CI) pinned Thomas Reyhons (A) @ 4:26
165 - Jon Heffner (CI) beat Connor Cummings (A) 5-1
174 - Matt Burns (A) beat Dusty Fellows (CI) 6-5
184 - Jordan Richardson (A) beat Tyler Lowey (CI) 10-3
197 - Theron Stewart (CI) pinned Seth Whan (A) @ 6:57
285 - Jake Crawford (CI) pinned John Schraidt (A) @ 7:52 (sudden victory)