December 5, 2012
Vikings fight off Bees 77-69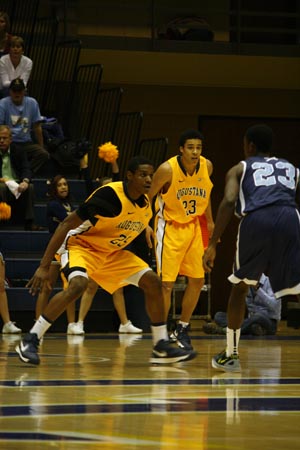 Freshman Tayvian Johnson (L) had a double-double of 12 points and 11 rebounds and sophomore Brandon Thompson (R) scored 10 points and had a game-high four steals as Augustana knocked off St. Ambrose 77-69 at Carver Center Wednesday night.
ROCK ISLAND, Ill. - Augustana outscored St. Ambrose 19-6 over the final six and a half minutes Wednesday and came away a 77-69 winner over the Bees at Carver Center. Freshman Tayvian Johnson (United Township HS, East Moline, Ill.) recorded a double-double and all five Viking starters scored in double figures as Augustana improved to 6-0 on the season. St. Ambrose fell to 4-5.
The Bees erased a 10-point Viking halftime lead and forged a 63-58 advantage of their own with 6:33 remaining. A basket by freshman Ben Ryan (Washington HS, Washington, Ill.) and three-pointer from sophomore Danielius Jurgutis (Downers Grove South HS, Darien, Ill.) got Augustana even before a pair of Adam Koncel free throws gave the visitors their final lead of the night. Jurgutis tied it again with a long two-pointer and senior center Brandon Kunz (Lake Zurich HS, Lake Zurich, Ill.) gave the Vikings the lead for good with a pair of free throws at the 3:36 mark.
Augustana held the Bees scoreless for a three-and-a-half minute stretch after the Koncel freebies, scoring 12 straight points to sew up the contest. Sophomore guard Brandon Thompson (Galesburg HS, Galesburg, Ill.) had two of his game-high four steals in that stretch.
The Vikings jumped out to a 41-31 halftime lead, behind solid shooting numbers and a 21-10 advantage on the glass. Ryan and Kunz each scored nine points and grabbed four rebounds in the opening twenty minutes. Ryan's traditional three-point play off a beautiful behind-the-back move in transition was one of the highlights of the opening stanza and gave the hosts their biggest lead of the night at 38-26 with 1:34 left in the period. Ambrose scored five straight before a Mark Roth (Washington HS, Washington, Ill.) three-pointer with 31 seconds left accounted for the halftime margin.
Kunz set a career scoring high for the second straight game, netting 19 on seven-of-eight shooting from the field and five-of-seven from the line. He also snared seven rebounds. Ryan and Jurgutis each scored 13 and dished out a game-high four assists. Ryan added eight rebounds. Johnson scored 12 points to go along with his game-high 11 boards and Thompson scored 10 and did an outstanding defensive job on St. Ambrose scoring leader Nick Frazier, who was held to just eight points.
Darren Galloway led the Bees with 17 points with Josh Hutton and Justin Blondell adding 11 and 10, respectively. Hutton had scored just three points in 15 minutes of play coming into the game. St. Ambrose became the first team this season to crack to 50 percent mark from the field against the Vikings, hitting 24 of 47 attempts (.511). The Bees knocked down seven of 14 (.500) from beyond the arc and 14 of 19 (.737) from the free throw line as well. Augustana ended up 28 of 60 (.467) from the floor, four of 12 (.333) from long range and 17 of 21 (.810) from the line. The Vikings recorded a 38-23 edge on the boards and turned it over just nine times to 13 for the visitors.
Coach Grey Giovanine's club faces a huge test on Saturday, December 8, when it travels to Stevens Point, Wisconsin to take on the seventh-ranked and undefeated Pointers of UW- Stevens Point. Tip-off is scheduled for 7:00 p.m.