December 4, 2012
Augustana defeats Blackburn 75-47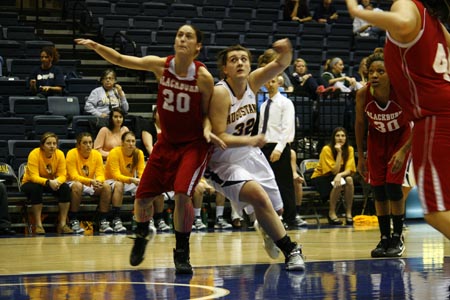 Augustana freshman Alexandria Lee grabbed a game-high eight rebounds in just 16 minutes Tuesday night as the Vikings defeated Blackburn 75-47 at Carver Center.
ROCK ISLAND, Ill. - Augustana jumped out to a 36-18 halftime lead Tuesday night and cruised to a 75-47 win over Blackburn at Carver Center. The Vikings, who were a perfect 16 of 16 from the foul line, improved to 3-3 on the year, while Blackburn falls to 0-6.
Junior Amy Hicks (Rockford Christian HS, Rockford, Ill.) had a pair of field goals as Augustana scored the game's first nine points in just over a minute and a half. A basket by freshman Marissa Pezzopane (Addison Trail HS, Wood Dale, Ill.) gave the Vikings their first double-digit lead, 15-4 with 13:37 remaining in the opening half.
Blackburn cut the deficit to nine three times, but four different Vikings scored in a 9-2 run that extended the margin to 30-14 at the 3:55 mark. Back-to-back Molly Etheridge (Normal Community HS, Bloomington, Ill.) three-pointers gave Augustana its 18-point lead at intermission.
A basket by freshman Andrea McNally (Hinsdale South HS, Burr Ridge, Ill.) with 16:37 left in the game pushed the lead to 20 for the first time at 42-22.
Augustana's big lead allowed coach Mark Beinborn to go deeper than usual on his bench. Freshman Alexandria Lee (St. Edward HS, West Dundee, Ill.) scored four points and grabbed a game-high eight rebounds in 16 minutes and senior Devon Di Iorio (Glenbard South HS, Glen Ellyn, Ill.) blocked three shots in seven minutes of action. Senior Lauren Hoffman's (Wheaton North HS, Winfield, Ill.) basket with 1:08 left accounted for the final margin which equaled the Vikings' biggest of the night.
Senior Gianna Pecora (Downers Grove South HS, Darien, Ill.) knocked down four of eight three-pointers on her way to a team-high 16 points. Etheridge, with 13, and junior Jessica Baids (West Chicago HS, Carol Stream, Ill.), with 10, joined her in double figures. Hicks and Baids each grabbed six rebounds.
The Vikings finished 26 of 61 (.426) from the field, including seven of 19 (.368) from three-point range. Blackburn was 16 of 62 (.258) from the floor and five of 16 (.313) from long range. Augustana had a 49-40 edge on the glass and each team turned it over 23 times.
Next up for Beinborn's crew is a date with fifth-ranked Washington University. The Bears invade Carver Center on Saturday, December 8 for a 4:00 p.m. tipoff.