Junior relishes time spent in Washington
December  07, 2012
From his office window, Rob Owens '14 had a pretty good view — the South Lawn of the White House. Yet, as an intern with the President's Council of Economic Advisors during fall term, Owens didn't have much time to enjoy the view from his window in the Executive Office Building.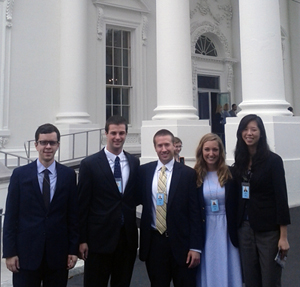 Augustana junior Rob Owens, second
from the left, spent his fall term interning
in Washington, D.C.
Alongside a number of Ph. D. economists, Owens worked with data to prepare information graphics that became key elements in the reports the council prepared for President Barack Obama. Owens was impressed with the intensity and meticulousness that went into the reports the council prepared.
"The statisticians and economists who work for the Council know the information they provide influences public policy," he explained, "and so they are meticulous about every report they produce."
Owens believes his experience in Dr. Janis Lonergan's two business statistics classes prepared him well for this internship.
"She's a great teacher," he said. "I think I have a deeper understanding of important concepts because we spent so much time on real world applications in her classes."
The ability to clearly and precisely communicate detailed economic and statistical information is an important part of Owens' job as an intern. For the development of the writing skills he uses every day, he credits his academic experience at Augustana that began with the Liberal Studies First Year program and continued through his upper-level business administration and economics courses.
"At Augustana, I learned to write succinct and clear summaries, and this has aided me greatly in my work here at the council," he said.
Owens' time in Washington wasn't all work and no play. He lived with two fellow interns in an apartment in Crystal City, just south of the Pentagon. The $2,000 he received in Augie Choice funding, along with money from the Telleen Fund for Student Experiences, helped him experience all that Washington had to offer.
While he never got the opportunity to meet President Obama, Owens was able watch the President's helicopter, Marine One, take off and land from the South Lawn. Rob also reported just missing a chance to meet Vice President Joe Biden on a White House elevator near the end of his internship experience.
Now back at Augustana for the winter term, Rob is looking forward to putting what he learned about how business gets done in Washington to work as he prepares for career in either finance or economics.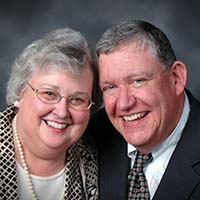 Sharon and Philip
Telleen
About Sharon and Philip Telleen and the Telleen Fund for Student Experiences
The Telleen Fund for Student Experiences was established four years ago by Sharon Telleen '68, as a way to commemorate her and her late husband, Phillip Telleen '68, and to celebrate their shared love of public service, their time in Washington D.C. and their alma mater.
Sharon and Philip married right after graduation and then went on to distinguished careers in public service; Sharon worked as a research professor and Philip as a general counsel with the Federal Energy Regulatory Commission and in the private sector. Sharon said during the couple's eight years in Washington, "We both saw public service as an opportunity to make a difference, and in Washington, the impact of your work is evident nearly every day." Sharon established the Telleen Fund as a vehicle to create opportunities for Augustana students to experience from the inside how business is done in Washington.
Sharon remains actively involved in the life of the fund she created. "I like to see this gift at work, so I try and meet with the students who receive money from this fund and share with them the passion that my late husband and I have for Augustana and a life of public service."
Rob Owens' D.C. internship actually began by joining Sharon for lunch at Washington's famous Elephant & Castle restaurant.
"Philip and I believed deeply that a conscientious and dedicated person, rooted in Augustana values, could make a real difference in Washington," Sharon said.