December 3, 2012
Five Vikings to play in All-Star games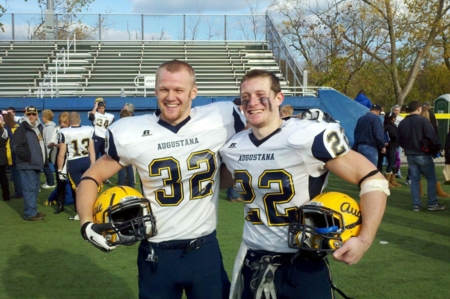 Running back Brett McWilliams (32) and linebacker Joe Spindler (22) are two of five Viking senior football players who will be particpating in post-season all-star games over the next two weekends.
ROCK ISLAND, Ill. - Five Augustana seniors will get an opportunity to extend their college football careers by at least one game as they compete in three separate All-Star contests over the next two weeks. Arnie Fitzwater (Union HS, Waterford, Wis.) will be competing at the D3 Senior Classic in Salem, Virginia on December 7 and Rob Mago (Cary-Grove HS, Cary, Ill.) at the National Bowl in Allentown, Pennsylvania on December 9. On December 15, Fitzwater will join Viking teammates Joe Spindler (Hononegah HS, Rockton, Ill.), Brett McWilliams (Hononegah HS, Roscoe, Ill.) and Shane Holl (Batavia HS, North Aurora, Ill.) at the Tazón de Estrellas in Guadalajara, Mexico.
Augustana players and coaches have a long history of participation in the Tazón de Estrellas, or "Bowl of the Stars," as well as its predecessor, the Aztec Bowl. The game pits a team of Division III all-stars against an all-star team of Mexican private school players. Mago and Fitzwater will be the school's first representatives at the National Bowl and D3 Senior Classic, respectively.
McWilliams, a 6' 2", 225-pound running back, was Augustana's second-leading rusher in 2012 with 416 yards and four touchdowns on 69 carries, an average of 6.0 yards per attempt. He led the Vikings in rushing and scoring as a junior with 427 yards and five touchdowns on 109 carries. He also had 14 pass receptions for an additional 112 yards.
The 6' 0", 205-pound Spindler, who was McWilliams' teammate at Hononegah High School, was in on 33 tackles from his linebacker spot this season. He had 22 solo stops and four for loss. He also had one sack, two pass deflections and returned a blocked field goal 54 yards against Carthage.
A 6' 2", 255-pound defensive end, Holl battled injuries as a senior, but recorded 43 tackles in 2011 when he tied for the team lead with five tackles for loss.
Fitzwater, a 6' 3", 205-pound punter, is a two-time Viking special teams MVP. He averaged 38.5 yards per punt this season and finished second in the CCIW in punting. As a junior, he ranked 12th nationally with a 40.5-yard average. He led the CCIW in punting and was a first team all-conference and second team D3football.com All-Midwest Region selection. He will join McWilliams, Spindler and Holl on "Team Stars and Stripes" as it takes on the CONADEIP All-Stars of Mexico. Fitzwater will also be a member of the South team at the D3 Senior Classic.
Mago will be competing for the Blue team at the National Bowl, which includes players from all NCAA divisions as well as the NAIA. A 5' 9", 180-pound defensive back, he recorded 38 tackles as a senior and 45 as a junior. He was second on the team with three interceptions as a sophomore, when he was also in on 32 tackles.