December 3, 2012
2012 FOOTBALL REVIEW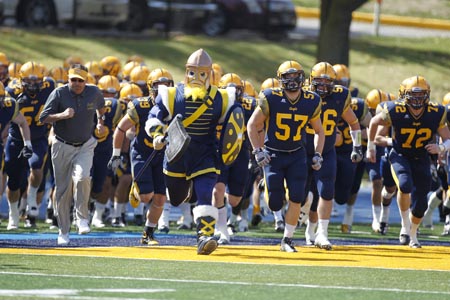 After starting the season with a 1-4 record through five games, the Vikings caught fire and won four in a row down the stretch to finish the 2012 season with a 5-5 overall record and a 4-3 mark in the College Conference of Illinois & Wisconsin, which was good for fourth place in the league.
Vikings win four of their last five to finish 5-5 and take fourth place in the CCIW; Erik Westerberg named CCIW Defensive Player of the Year; Knowlton Foundation to finance significant facility upgrade
Augustana won four of its last five games in 2012 to finish 5-5 overall and 4-3 and in fourth place in the CCIW. Highlights of the team's four-game winning streak late in the season were a come-from-behind 24-14 Homecoming win over Millikin and a decisive 22-7 road win over an Illinois Wesleyan team that was ranked in the top 20 in the nation for most of the season.
The turning point in Rob Cushman's second season as Augustana's head coach came midway through the first quarter on Homecoming afternoon at Ericson Field on October 13. The Vikings entered the contest with a record of 1-4 and Millikin had jumped to a quick 14-0 lead and looked poised to extend it with the ball deep in Augustana territory. However, sophomore defensive end Sean McIntyre (Genoa-Kingston HS, Genoa, Ill.) recovered a fumble by Big Blue quarterback Matt Holmes and Augustana went on to score 24 unanswered points and get the first of four straight wins.
Individually, junior linebacker Erik Westerberg (York HS, Elmhurst, Ill.) enjoyed another tremendous season. Not only did he repeat as a first team All-CCIW selection and the league's leading tackler, he was also named the conference's Defensive Player of the Year. Westerberg is the first Viking so honored since cornerback Tom Anthony won the award in 2005. Just as impressive in the classroom, he also repeated as a second team Capital One Academic All-American. He was joined on the Academic All-District first team by Viking junior center Eric Dratnol (Kaneland HS, Montgomery, Ill.).
The season opened with a 39-21 loss at Dubuque. The Vikings led 14-7 late in the first half, but allowed three Spartan touchdowns in the final 4:02 before the break and couldn't recover. A 17-10 loss at Central followed in a game that saw the Dutch leading just 3-0 going into the fourth quarter.
Nick Welch (Oswego HS, Oswego, Ill.) completed 18 of 22 passes for 347 yards and three touchdowns to lead Augustana to its first win, 34-10 over Loras at Ericson Field. The performance earned the senior quarterback CCIW Offensive Player of the Week honors.
The Vikings fell 49-7 at home to Wheaton, one of three teams that would go on to share the conference championship. Another of those teams, Elmhurst, was the opponent the following week. Augustana went ahead 27-24 with 2:36 remaining, but the Bluejays, who finished 10-2 and earned their first-ever playoff berth, drove 76 yards to get the winning touchdown with 45 seconds left. That set the stage for the big comeback win against Millikin on Homecoming.
Building on the momentum from that win, the Vikings pounded their namesakes from North Park 35-14 on the road behind 203 rushing yards from junior Eric Chandler (Cary-Grove HS, Cary, Ill.). Chandler's performance tied the 10th-best rushing total in school history. Back at home against Carthage, Augustana scored 31 points in the game's first 25 minutes and cruised to its third straight win, 38-13.
Welch threw for 277 yards and a pair of touchdowns to lead the Vikings to a 22-7 win at Illinois Wesleyan, who had been ranked 12th in the nation just two weeks earlier. The defense allowed just 257 total yards to the Titans. The season ended with a 37-6 loss at home to North Central, who earned a share of its seventh straight CCIW championship. The defense shone again, holding the powerful Cardinal offense to a season-low 241 total yards. However, special teams breakdowns gave North Central great field position all day and the Augustana offense struggled against a stout North Central defense.
Westerberg was the CCIW's leading tackler for the second year in a row and finished the season with 118 total tackles (66 solo and 52 assisted). His 14 tackles for loss also led the Vikings, while his four sacks were tied for second with junior nose tackle Carl Hartweg (Illini West HS, Carthage, Ill.).
Other defensive leaders for Augustana this year included senior linebacker John Draminski (Wethersfield HS, Kewanee, Ill.), a second team All-CCIW pick who finished second on the team with 64 tackles (44 solo and 20 assisted), including 5½ for loss and two sacks. Sophomore defensive end Sean McIntyre (Genoa-Kingston HS, Genoa, Ill.) led Augustana with nine sacks and tied junior linebacker Mike O'Donoghue (Mundelein HS, Mundelein, Ill.) with a pair of fumble recoveries. McIntyre, along with senior cornerback Matt Glawe (Wheaton Warrenville South, Winfield, Ill.), joined Draminski on the All-CCIW second team. Sophomore safety Bo Goshorn (Romeoville HS Romeoville, Ill.) led the team with four interceptions and was third with 57 tackles. Sophomore safety Tim Maroder (Burlington Central HS, Elgin, Ill.) had three interceptions and a fumble recovery. Goshorn and Maroder shared the CCIW lead with three picks each in league games. Senior linebacker Joe Weber (Marmion Academy, Chicago, Ill.) had a team-best two forced fumbles and was fifth with 43 tackles and third with 7½ tackles for loss.
On offense, Welch's season total of 1,375 passing yards was the ninth-best in school history. He completed 106 of 182 pass attempts (58.2 percent) for 11 touchdowns while being intercepted seven times.
Welch's receiving corps took a hit when junior Nick Krantz (Moline HS, Moline, Ill.) went down early in the season's seventh game, but junior Kyle Snow (Wheaton Warrenville South HS, Wheaton, Ill.) and sophomores Torre Harrell (Bloomington HS, Bloomington, Ill.) and Antonio Owens (Naperville North HS, Chicago, Ill.) helped fill the void and ended up ranked 1, 2 and 3 on the team in receptions. Snow, a second team All-CCIW selection, caught 27 passes for 302 yards and two touchdowns. Harrell had 23 receptions for 288 yards and three scores and Owens had 19 grabs for 215 yards and two touchdowns. Krantz, despite missing almost four full games, still led the team with 329 yards on 18 catches, two of which went for touchdowns.
Chandler and senior running back Brett McWilliams (Hononegah HS, Roscoe, Ill.) helped the Viking ground game produce 163.0 yards per game and an average of 4.2 yards per carry. Chandler, a second team all-conference selection, was the CCIW's third-leading rusher and finished the season with 718 yards and five touchdowns on 115 carries, an average of 6.2 yards per tote. McWilliams averaged 6.0 yards per carry with 416 yards on 69 attempts. He scored four touchdowns. Owens (17-110-6.5) and Snow (17-97-5.7) were effective running from the slot position as well. Senior offensive tackle Mike Kautz (Alleman HS, East Moline, Ill.) helped pave the way and earned second team All-CCIW recognition.
In July, it was announced that the Augustana football and track & field facility will be getting a major upgrade thanks to a gift from the Knowlton Foundation. The Vikings played on a new field turf surface this season and the Austin E. Knowlton Outdoor Athletic Complex, which will feature Charles D. Lindberg Stadium and the Anderson Academic All-America Club, is due for completion in time for next year's home opener against Mt. St. Joseph.
2012 CCIW STANDINGS
| | | |
| --- | --- | --- |
| School | CCIW | Overall |
| North Central | 6-1 | 8-2 |
| Elmhurst | 6-1 | 9-1 |
| Wheaton | 6-1 | 8-2 |
| AUGUSTANA | 4-3 | 5-5 |
| Illinois Wesleyan | 3-4 | 6-4 |
| Millikin | 2-5 | 5-5 |
| Carthage | 1-6 | 3-7 |
| North Park | 0-7 | 1-9 |
2012 AUGUSTANA FOOTBALL SUPERLATIVES
INDIVIDUAL AWARD WINNERS
D3FOOTBALL.COM ALL-AMERICAN - Erik Westerberg, LB
BEYOND SPORTS NETWORK ALL-AMERICAN - Erik Westrberg, LB
CCIW DEFENSIVE PLAYER OF THE YEAR - Erik Westerberg, LB
CCIW ALL-CONFERENCE SELECTIONS - First team: Erik Westerberg, LB...Second team: Matt Glawe, CB; John Draminski, LB; Sean McIntyre, DE; Eric Chandler, RB; Kyle Snow, WR; Mike Kautz, OT
CCIW PLAYERS OF THE WEEK - 09/17/12 - Nick Welch, QB vs. Loras; 10/29/12 - Erik Westerberg, LB vs. Carthage
CoSIDA ACADEMIC ALL-AMERICA - Erik Westerberg, LB, second team
CoSIDA ACADEMIC ALL-DISTRICT - Erik Westerberg, LB, first team; Eric Dratnol, C, first team
CCIW ACADEMIC ALL-CONFERENCE - Eric Chandler, Nick Chandler, John Draminski, Eric Dratnol, Sean Fitzgerald, Ben Fornek, Ben Hodges, Mike Kautz, Brett McWilliams, Caleb Nickels, Andrew O'Reilly, Pete Schimek, Derek Schneeman, Kyle Snow, Joe Spindler, Erik Westerberg
TAZON de ESTRELLAS (Game of the Stars): Arnie Fitzwater, Shane Holl, Joe Spindler, Brett McWilliams
NATIONAL BOWL: Robbie Mago
D3 SENIOR CLASSIC: Arnie Fitzwater
ADDITIONS TO AUGUSTANA'S TOP TEN LISTS
SINGLE SEASON PASSING YARDS - 1,375 (Nick Welch - 9th place)
NCAA STATISTICAL RANKINGS TEAM - TOP 25
KICKOFF RETURNS - 22nd @ 22.44 yards per return
NCAA STATISTICAL RANKINGS INDIVIDUAL - TOP 25
TOTAL TACKLES - Erik Westerberg, T-13th @ 11.8 per game
SOLO TACKLES - Erik Westerberg, T-14th @ 6.60 per game
CCIW STATISTICAL LEADERS - TEAM
KICKOFF COVERAGE - 39.4 net yards per kickoff
CCIW STATISTICAL TOP FIVE - INDIVIDUAL
RUSHING - Eric Chandler, 3rd @ 89.7 yards per game
INTERCEPTIONS - Bo Goshorn and Tim Maroder, T-1st @ 0.43 per game; Matt Glawe T-5th @ 0.29 per game
PUNTING - Arnie Fitzwater, 2nd @ 39.5 yards per punt
SCORING (KICKING) - Brady Rogers, 5th @ 4.7 points per game
FIELD GOALS - Brady Rogers, 5th @ 0.71 per game
PAT KICKING - Brady Rogers, 4th @ 85.7%
TACKLES - Erik Westerberg, 1st @ 10.4 per game
SACKS - Sean McIntyre, 3rd @ 0.71 per game
TACKLES FOR LOSS - Erik Westerberg, 4th @ 1.21 per game
FUMBLE RECOVERIES - Sean McIntyre, T-4th @ 0.29 per game
PASSES DEFENDED - Bo Goshorn, T-2nd @ 0.86 per game
TEAM AWARDS
MOST VALUABLE PLAYER - Erik Westerberg
MOST VALUABLE OFFENSIVE PLAYER - Eric Chandler
MOST VALUABLE DEFENSIVE PLAYER - J.D. Draminski
MOST VALUABLE SPECIAL TEAMS PLAYER - Arnie Fitzwater
JERRY FRECK AWARD - Pete Schimeck
SCOUT TEAM OFFENSIVE MVP - Jon Losen
SCOUT TEAM DEFENSIVE MVP - Tom Enke