December 1, 2012
Viking men take third at Pioneer Classic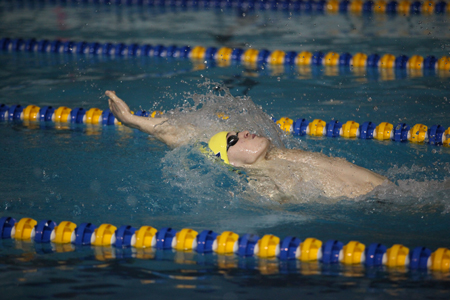 Sophomore Aaron Holt won the 100 backstroke and finished in a tie for second in the 100 butterfly this past weekend at the Pioneer Classic in Grinnell, Iowa. His performance helped the Viking men finish in third place among 10 teams.
GRINNELL, Iowa- Sophomore Aaron Holt (Mount Vernon HS, Mount Vernon, Ill.) won the 100 backstroke Saturday at Grinnell College's Pioneer Classic. He also tied for second in the 100 butterfly. His performance helped Augustana earn a third-place team finish among 10 teams at the two-day meet.
Day One
Sophomore Michael Duy (Marmion Academy, Aurora, Ill.) had the best individual finish for Augustana on the meet's first day, taking fourth in the 500 freestyle in a time of 4:59.94. He also anchored the Vikings' fourth-place 400 medley relay, which finished in 3:44.34. Holt led off, followed by freshmen Adam Bernardi (Boylan Catholic HS, Belvidere, Ill.) and David Sommers (Westlake HS, Thousand Oaks, Calif.) and Duy.
Augustana's 200 freestyle relay also finished fourth. Holt, senior Chris Greaves (Morris HS, Morris, Ill.), Duy and junior Daniel Hinck (Harlem HS, Loves Park, Ill.) finished in 1:29.33. Hinck (5:05.81) was an eighth-place finisher in the 500 freestyle, while junior Justin Reppy (Oswego HS, Oswego, Ill) was 10th in 5:08.55.
Bernardi was a fifth-place finisher in the 200 individual medley in a time of 2:02.08. Holt (2:03.54) was eighth in the 200 IM and ninth in the 50 freestyle with a time of :22.63. Sophomore Josh Wielenga (School of Environmental Studies, Apple Valley, Minn.) finished fifth in the three-meter diving competition with a score of 344.35.
Day Two
Holt's :54.32 in the 100 backstroke was Augustana's only first-place finish of the weekend and his :53.80 in the 100 butterfly put him in a dead heat for second. Sommers took fourth in the 100 fly (:54.02) and also had a second-place finish, swimming a 1:59.90 in the 200 butterfly - a mark that surpassed the previous meet record. Also in the 200 butterfly, Greaves (2:08.36) was fifth, Duy (2:09.77) sixth and Reppy (2:11.95) eighth.
In the 1650 freestyle, Reppy (18:07.37) took third, Hinck (18:14.46) fourth, junior Austin Zarbuck (Urbana HS, Urbana, Ill.) (18:31.68) sixth and Duy (18:34.88) eighth. Hinck (1:47.50), Duy (1:48.13) and Greaves (1:51.89) finished fourth, fifth and 10th, respectively, in the 200 freestyle.
Wielenga's score of 338.15 in the one-meter diving competition earned him a fifth-place finish.
In the 400 individual medley, Bernardi (4:23.90) was sixth, Sommers (4:30.77) seventh and Hernandez (4:34.61) ninth. Holt (2:04.56), Hernandez (2:05.11) and Greaves (2:07.87) finished sixth, eighth and 10th, respectively, in the 200 backstroke and Duy (:50.38) and Holt (:50.52) were ninth and 10th in the100 freestyle. Hernandez's 2:25.79 in the 200 breaststroke earned him a ninth-place finish and he was eighth (:57.11) in the 100 backstroke while Greaves (:57.84) took 10th.
In relay events, the 800 freestyle team of Hinck, Sommers, Reppy and Duy swam a third-place 7:22.18. The 200 medley and 400 freestyle relays each claimed fourth place. Holt, Greaves, Duy and Hinck swam a 3:21.73 in the freestyle and Holt, Bernardi, Sommers and Hinck finished the medley in 1:41.36.
William Jewell earned the team title with 1067.5 points, followed by Grinnell (997.5) and Augustana (882.5). Loras (471.5) and Monmouth (354) rounded out the top five.
The Vikings host Loras in a dual meet at the Carver Pool on Friday, December 7 at 6:30 p.m.