December 1, 2012
Viking women fourth at Pioneer Classic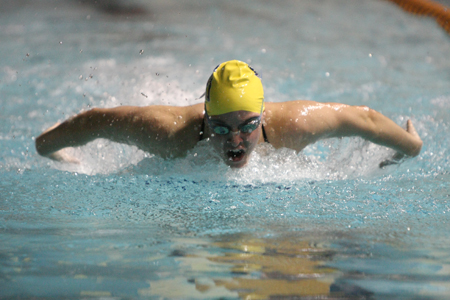 Freshman Emma Novak earned a pair of fourth-place individual finishes this weekend and was also a member of two fourth-place, one fifth-place and one sixth-place relay teams as the Augustana women finished fourth in an 11-team field at Grinnell College's Pioneer Classic.
GRINNELL, Iowa-Freshman Emma Novak (Eden Prairie HS, Eden Prairie, Minn.) and junior Hillary Ferguson (Waubonsie Valley HS, Naperville, Ill.) helped lead Augustana to a fourth-place team finish at this weekend's Pioneer Classic hosted by Grinnell College. Ferguson had the Vikings' top individual finish, taking second in the 50 freestyle, and Novak earned a pair of fourths in individual competition. Both swam on multiple top 10 relay teams as well.
Day One
Ferguson's second-place :25.49 in the 50 freestyle was the top individual finish for the Vikings on day one. Senior Alexandra Piper (Coal City HS, Coal City, Ill.) was sixth in the same event, finishing in :25.80. Novak swam a 2:16.94 in the 200 individual medley to take fourth place.
Freshman Adelia Clark (Linn Mar HS, Marion, Iowa) took fifth place in the three-meter diving competition, finishing with 295.35 points.
Piper and Ferguson swam lead off and anchor, respectively on Augustana's fifth-place 200 freestyle relay. Seniors Molly Clennon (Benet Academy, Naperville, Ill.) and Emma Regnier (Grayslake North HS, Lake Villa, Ill.) handled the second and third legs as the Vikings finished in 1:45.38. Augustana was also fifth in the 400 medley relay, with Clennon, Regnier, Novak and Ferguson finishing in 4:24.59.
Junior Erin Doty (Oswego HS, Oswego, Ill.) took 10th in the 500 freestyle with a time of 5:41.93.
Day Two
On Saturday, Novak grabbed an individual fourth and swam on two fourth-place relays and one sixth-place relay. Her 2:05.17 in the 200 freestyle was good for fourth, while Clennon (2:07.50) was eighth and Piper (2:07.72) ninth. In the 800 freestyle relay, it was Novak, sophomore Jamie Graf (Lincoln-Way Central HS, Downers Grove, Ill.), Piper and Clennon swimming a fourth-place 8:32.87. Regnier replaced Graf on the 400 freestyle relay, which also finished fourth in 3:54.53. Clennon, Regnier, Novak and Ferguson were sixth in the 200 medley relay, swimming a 2:00.11.
Clark matched Friday's fifth in the three-meter diving with a fifth-place finish at one meter Saturday. She compiled a score of 310.65 while freshman Megan McGregor (Lincoln-Way East HS, Mokena, Ill.) was seventh with 226.60 points.
The Vikings took sixth and tenth in both the 100 freestyle and 200 butterfly with Ferguson (:57.37) and Piper (:58.09) and Regnier (2:24.72) and Novak (2:27.47), respectively, earning those places.
Regnier's 1:12.98 in the 100 breaststroke was seventh. Doty and senior Emily Timmons (West Aurora HS, North Aurora, Ill.) were eighth and ninth in the 1650 freestyle with respective times of19:54.52 and 19:56.37. Novak (1:04.72) took eighth in the100 butterfly and Timmons (5:13.10) was ninth in the 400 individual medley.
The hosts won the team title with 1047.5 points. William Jewell (962) and Loras (716) took second and third, with Augustana (597) fourth. A total of 11 teams competed.
The Vikings host Loras in a dual meet at the Carver Pool on Friday, December 7 at 6:30 p.m.