November 29, 2012
Vikings escape with 67-63 win over UWO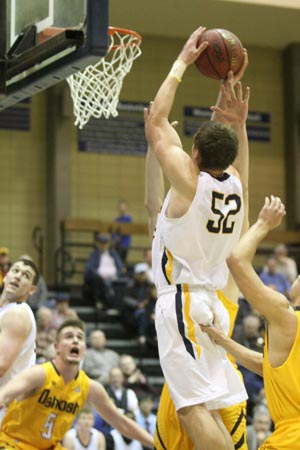 Senior center Brandon Kunz grabs one of his 11 rebounds Thursday night at Carver Center. Kunz also scored a career-high 16 points to help the Vikings escape with a 67-63 win over UW-Oshkosh.
ROCK ISLAND, Ill. - Senior center Brandon Kunz (Lake Zurich HS, Lake Zurich, Ill.) scored a career-high 16 points and grabbed 11 rebounds to help Augustana survive a scare from Wisconsin-Oshkosh Thursday night at Carver Center. The Vikings held on for a 67-63 win to improve to 5-0 on the season, while UW-Oshkosh fell to 1-3.
Kunz scored seven points and freshman Ben Ryan (Washington HS, Washington, Ill.) eight as Augustana jumped out to a 15-7 lead four and a half minutes in. However, Titan coach Pat Juckem called a timeout and his team responded by going on a 9-0 run to take an 16-15 lead. Oshkosh's Cory Nickel had a pair of three's in that stretch.
The visitors stayed hot from beyond the arc and eventually stretched the lead to 28-21 on a Jade Royston trey with 4:44 left in the half. Junior center Kevin Schlitter (Maine South HS, Park Ridge, Ill.) scored six points as the Vikings closed the half on an 8-2 run to go to the break trailing 30-29.
Nickel opened the second half with another trey, but Augustana tied it on a bucket from Brandon Thompson (Galesburg HS, Galesburg, Ill.) and a pair of Danielius Jurgutis (Downers Grove South HS, Darien, Ill.) free throws. Ryan followed with a basket that gave the hosts their first lead since the 9:50 mark of the first half. Oshkosh wouldn't go away however, taking one point leads at 37-36 and 39-38 before Thompson drained the Vikings' only three-pointer of the night after 13 straight misses. A Paul Volkman bucket tied it one last time before a Kunz jumper finally gave Augustana the lead for good at 43-41 with 9:17 left.
Thompson hit six of eight free throws over the last 4:10 to help sew up the win. A big play also occurred on one of his two misses, when Ryan knifed in for a put-back which put the Vikings up 59-53 with 2:10 left. Nickel's final three of the night with eight seconds left cut the margin to 66-63, but Jurgutis hit the second of two free throws to ice it.
Ryan joined Kunz with a double-double, scoring 12 points and grabbing a game-high 13 rebounds as Augustana pounded Oshkosh 47-22 on the glass. That margin helped the Vikings overcome a 21-for-54 (.389) shooting night and a 1-for-14 performance from beyond the arc. They also helped themselves with a 24-of-33 night from the free throw line. Thompson finished with a career-high for the second straight game with 15 points, 13 of which came in the second half. Schlitter had 13 points on five of seven field goals and grabbed seven rebounds. The Titans finished the night 22-51 from the floor and 11-25 from long range.
Coach Grey Giovanine's crew is back in action at Carver Center on Wednesday, December 5, hosting St. Ambrose at 7:30 p.m. That contest will be the last between the teams for the foreseeable future as Augustana seeks to play an all-NCAA schedule.