November 28, 2012
Dubuque hands Vikings a 69-58 home loss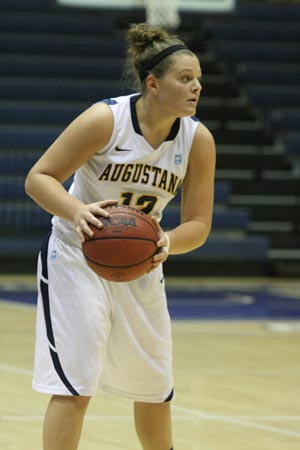 Junior guard Molly Etheridge had game highs of 18 points, six rebounds and four steals Wednesday night, but it wasn't enough to keep Augustana from falling 69-58 to Dubuque at Carver Center.
ROCK ISLAND, Ill. - Dubuque used a 40-32 edge on the boards Wednesday night, including 15 offensive rebounds, to hand Augustana a 69-58 loss at Carver Center. The visitors improve to 4-1 on the season, while the Vikings fall to 2-3. Junior guard Molly Etheridge (Normal Community HS, Bloomington, Ill.) led the hosts with game highs of 18 points, six rebounds and four steals.
A tight first half saw four ties, but Augustana couldn't manage to take its first lead until 2:43 remained before intermission. After freshman Maddie Kerr (St. Edward HS, Streamwood, Ill.) hit a three-pointer to account for the fourth tie of the half at 25-25, Dubuque regained the lead with a pair of Heather Chapman free throws before a three from Etheridge put the Vikings on top 28-27. Unfortunately, that would be Augustana's only lead of the night, as the Spartans responded with a 5-0 run and eventually led 36-30 at the half.
An Etheridge bucket with 17:20 left got the Vikings within one at 41-40, but Dubuque answered with a 10-2 run to take it largest lead to that point, 51-42 with 13:42 left. Another Etheridge three and a bucket from Amy Hicks (Rockford Christian HS, Rockford, Ill.) cut it to 51-47, but again the Spartans rattled off four straight points to go back up by eight.
A basket by Kristal Pritchett with 7:37 left gave the Spartans their first double-digit lead at 60-49 and the Dubuque advantage stayed in double figures over the final six minutes.
Etheridge finished the night seven of 13 from the field. She connected on four of eight from beyond the arc, including three for three in the second half. Kerr was the only other Viking in double figures, with 10 on 4-of-6 shooting and two of four from long distance. Kayla Springer led the Spartans with 13 points. Pritchett added 11.
Augustana ended up 23 of 56 from the field for a percentage of .411, while Dubuque hit 28 of 63 field goal attempts for a mark of .444. Each team hit six of 19 (.316) three-point attempts.
The Vikings are back in action at Carver Center on Tuesday, December 4, hosting Blackburn in a 7:30 p.m. contest.