November 27, 2012
Vikings ride big first half to win over Platteville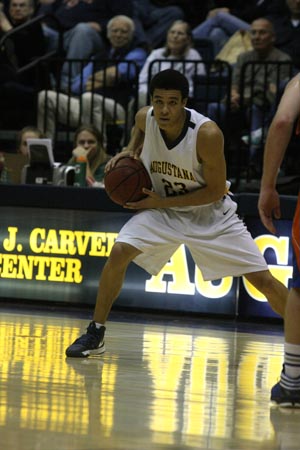 Sophomore Brandon Thompson had a career-high 11 points and five rebounds and turned in another outstanding defensive effort Tuesday as Augustana defeated Wisconsin-Platteville 69-57 at Carver Center.
ROCK ISLAND, Ill. - Augustana outscored Wisconsin-Platteville 18-6 over the final 6:09 of the first half Tuesday to take a 16-point lead at intermission and went on to claim a 69-57 win at Carver Center. The Vikings improved to 4-0 on the season and handed the Pioneers their first loss after five straight wins.
Augustana jumped out to a 15-6 lead, getting six points from Ben Ryan (Washington HS, Washington, Ill.), five from Kevin Schlitter (Maine South HS, Park Ridge, Ill.) and four from Danielius Jurgutis (Downers Grove South HS, Darien, Ill.) in the game's first nine and a half minutes. A three-pointer from Pioneer point guard Eric Gerber cut the lead to 21-17 with 6:23 left in the half, but Schlitter answered 14 seconds later with two of his 11 first-half points. A Jurgutis jumper at the 3:24 mark gave Augustana its first double-digit lead at 28-17.
Griffin Pils (Libertyville HS, Libertyville, Ill.) and Mark Roth (Washington HS, Washington, Ill.) each hit three-pointers in the final three minutes of the half and a pair of Brandon Kunz (Lake Zurich HS, Lake Zurich, Ill.) free throws with 42 seconds left gave the Vikings a 37-23 advantage. A Pioneer turnover allowed Augustana to hold for the final shot and Brandon Thompson (Galesburg HS, Galesburg, Ill.) was able to break down the Platteville defense, driving for a layup just before the halftime buzzer.
After a first half in which Augustana shot .571 from the field, the second stanza was a grind-it-out defensive affair.
Despite hitting just five of their first 23 field goal attempts in the second half, the Vikings had actually extended its lead to 19 points with six and a half minutes left. However, a Trevor Wittwer trey at the 6:15 mark cut it back to 16 and the visitors went on a 7-1 run to get within 10, at 57-47, with 3:56 left. That was as close as the visitors would get, however, as solid free throw shooting by the Vikings down the stretch iced the victory.
Augustana put four players in double figures, led by Schlitter, who set a career-high for the second straight game with 19 points. Ryan added a dozen, Thompson 11 and Jurgutis 10. Ryan led the Vikings with seven rebounds, while Kunz had six and Schlitter and Thompson five each. Thompson had an outstanding all-around game, adding two assists and a steal with no turnovers and turning in a great defensive effort, holding the opponent's leading scorer without a point for the second straight game.
Augustana held Platteville to just .364 shooting from the field and forced 16 turnovers. After going six for 26 from the floor in the second half, the Vikings finished the night with a .407 field goal percentage. They made up for it by knocking down 23 of 30 free throws, including 18 of 23 in the second half. The hosts also finished with a 37-34 advantage on the glass and turned it over just a dozen times.
Another Wisconsin Intercollegiate Athletic Conference team visits Carver Center on Thursday, November 29 when the Titans of Wisconsin-Oshkosh come calling for a 7:30 p.m. tipoff.