November 25, 2012
Bryant Voiles signs with NBA Development League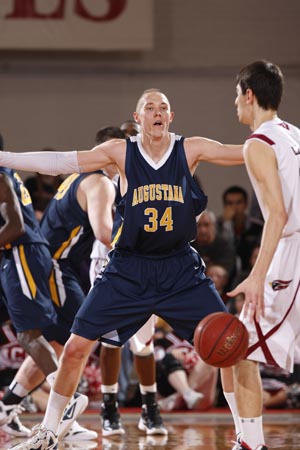 Bryant Voiles, a 2012 graduate of Augustana, has signed a contract with the Sioux Falls Skyforce of the NBA Development League. Voiles is the only rookie on the Skyforce roster and the only player not from an NCAA Division I school.
After a trip to the 2012 Portsmouth Invitational and summer workouts with the Minnesota Timberwolves and Orlando Magic, two-time Augustana MVP Bryant Voiles has begun his professional career with the Sioux Falls Skyforce of the NBA Development League. He played 12 minutes in Sioux Falls' season opener Saturday night, hitting his only two shot attempts - both three-pointers - and adding three rebounds and two assists with no turnovers to help the Skyforce open with a 107-98 win over Iowa Energy.
The 6' 9", 209-pound Voiles is the only rookie on Sioux Falls' 10-man opening-day roster and the only player who doesn't hail from a Division I school. Other notable names for the Skyforce include 11-year NBA veteran Troy Hudson from Southern Illinois, three-time SEC Defensive Player of the Year Jarvis Varnado of Mississippi State and former University of Illinois standout Mike Davis. Three of Voiles' teammates, in addition to Hudson, have NBA experience. He was added to the Skyforce training camp roster on Friday, November 16 and hit three three-pointers the next night in a 99-91 pre-season win over Iowa to earn a final roster spot.
The official minor league of the National Basketball Association, the D-League sent 42 players to the NBA last year and 27 percent of the players who finished last season in the NBA had played in the D-League. Sioux Falls is affiliated with the Miami Heat, Orlando Magic, Minnesota Timberwolves and Philadelphia 76ers.
Voiles joins several of coach Grey Giovanine's former Vikings pursuing professional basketball careers. 2011 Augustana grad Kyle Nelson, a teammate of Voiles and two-time first team All-CCIW selection, competed last season in Latvia. He averaged 12.0 points and a team-high 6.3 rebounds per game for Jelgava, earning Latvian League All-Star honors. This year, the 6' 8", 229-pound forward is playing for Rustavi of the Georgian Superleague. Through six games, he's averaging 15.2 points and leads the team in minutes (30.7 per game), rebounding (8.0 rpg), field goal percentage (.551) and three-point percentage (.500) in leading Rustavi to a 5-1 record.
Dain Swetalla, who started at center on three straight CCIW championship teams from 2005-08, is averaging 8.8 points, 8.0 rebounds and 3.0 assists per game for Vitoria of the Portuguese Liga Profissional. The team is off to a 4-0 start this season. Last year with Illiabum Clube of Proliga in Portugal, the 6' 9", 240-pound Swetalla was a first-team all-league selection as well as Proliga's "Center of the Year." In addition, he was named to the All-Import and All-Newcomer teams after finishing third in the league in scoring (17.2 ppg) and seventh in rebounding (9.1 rpg) and shooting .503 from two-point range, .410 from three-point range and .761 from the free throw line. Swetalla has also played in Spain and with the Buffalo Stampede of the Atlantic Coast Professional Basketball League.
Augustana grads Bill Goehrke and Jay McAdams-Thornton both played professionally in Germany last season. Goehrke, a 6' 6", 224-pound forward who last suited up for the Vikings in 2003-04, played a team-high 33 games for Rasta Vechta of the ProA league, averaging 3.4 rebounds in 8.8 minutes per night while converting .548 from the field. The 6' 4" McAdams-Thornton, a two-time All-CCIW pick and 1,000-point scorer at Augustana from 2002-06, played for Fellbach in the Regionalliga in 2011-12. He's also competed for Stuttgart and Friedrichshafen in Germany as well as Anastasia in Uruguay.