November 24, 2012
Road success continues for Vikings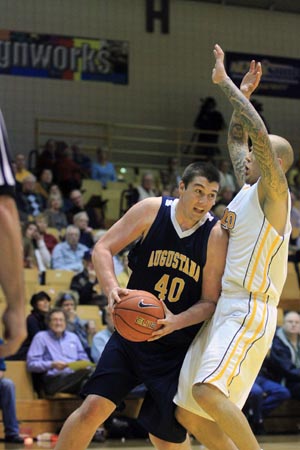 Junior Kevin Schlitter hit eight of 12 shots from the field and led Augustana in scoring with 16 points as the Vikings beat Chicago 70-52 for their third straight road victory in 2012-13.
CHICAGO, Ill. - Before the 2012-13 season began, Augustana men's basketball coach Grey Giovanine expressed deep concern over the fact that his young Vikings were going to start the season with three straight road games. After an impressive showing in a 70-52 win at the University of Chicago on Saturday, November 24, Giovanine might be wondering why he was concerned in the first place.

With the win over the Maroons, who came into the game unbeaten at 3-0, Giovanine's team is now a perfect 3-0 on the season with all of the victories coming away from the friendly confines of the Carver Center. That is where the Vikings will be on Tuesday, November 27 when they open the home season at 7:30 p.m. against the University of Wisconsin-Platteville.

In the game on Saturday at the Ratner Center, Augustana never trailed in the game and used an advantage in rebounding and a smothering first half defense to pick up the victory. The Vikings won the battle of the backboards 40-30 with freshman Ben Ryan (Washington HS, Washington, Ill.) leading the way with seven and held Chicago to just .276 (8-29) shooting from the floor in the first half.

At intermission the Augustana lead was 35-18 the smallest the margin was in the second half was 13 points on two occasions. At one point, with 4:54 left to play, the lead was 29 points (66-37).

Junior Kevin Schlitter (Maine South HS, Park Ridge, Ill.) was the lone Augustana player in double figures as he had 16 points on eight of 12 from the floor and also grabbed four rebounds with an assist, a blocked shot and a steal. Ryan had nine points to go along with his seven rebounds and sophomore Danielius Jurgutis (Downers Grove South HS, Darien, Ill.) also had nine points. Freshman Griffin Pils (Libertyville HS, Libertyville, Ill.) had eight points, five rebounds and a team high three assists while senior Brandon Kunz (Lake Zurich HS, Lake Zurich, Ill.) had eight points.

The Vikings shot .475 (28-59) from the floor and were four of nine from three point range. They also made 10 of 13 free throws. One important statistic was the fact that Augustana turned it over just nine times in the game.