November 24, 2012
Vikings drop road game at Webster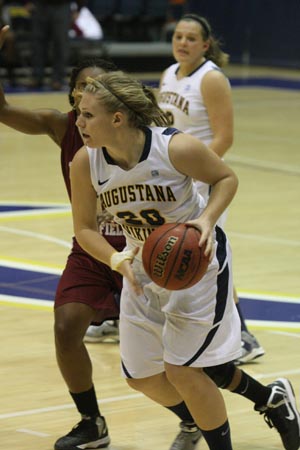 Junior Amy Hicks scored 13 points and grabbed a team-high six rebounds in the Vikings' 73-63 loss at Webster on Saturday, November 24 in St. Louis, Missouri.
ST. LOUIS, Missouri - Despite shooting .538 from the field in the second half, Augustana was outscored by 11 points in the stanza and that proved to be the difference in a 73-63 loss to Webster on Saturday, November 24 in St. Louis, Missouri. The Vikings hit 14 of 26 from the floor in the final 20 minutes but the Gorloks were even better, connecting on .607 (17-28), including three of four from three point range and a perfect 13 of 13 from the free throw line.

Webster led by nine points (22-13) with just 5:53 left in the first half but Augustana closed out the half on an 11-3 run to take a 24-23 advantage at intermission. A conventional three point play from sophomore Kayla Boers (Oswego East HS, Oswego, Ill.) put the Vikings ahead just :35 in front of halftime.

In the second half junior Jessica Baids (West Chicago HS, Carol Stream, Ill.) scored the first six points for Augustana and the Vikings surged to a five point lead (36-31) with 14:19 after a three point basket by junior Amy Hicks (Rockford Christian HS, Rockford, Ill.).

With 12:16 to play the visitors claimed what would prove to be their last lead of the game when freshman Maddie Kerr (Elgin St. Edward Catholic HS, Streamwood, Ill.) nailed a three point play. That made the score 39-38 in favor of the Vikings but Webster scored 12 of the game's next 14 points to surge to a nine point lead (50-41) with 9:19 left.

Augustana came back with 10-2 run and at the 5:27 mark a basket by Baids cut the margin to just a single digit (52-51). Webster answer immediately with seven straight points to take a 59-51 lead with 3:31 to play.

The Vikings put three players in double figures in the scoring department. Baids led the team with 14 points while Hicks had 13 and senior Gianna Pecora (Downers Grove South HS, Darien, Ill.) scored 12. Pecora had a team high five assists with three steals and four rebounds while Hicks had two assists, a steal and six rebounds and Baids had an assist to go along with four rebounds.

Gwen Williams led Webster in scoring with 25 points.

Augustana is now 2-2 on the season while Webster has the same record.