Five Questions with Paul Croll
November  21, 2012
Five Questions is a series of profiles of people at Augustana College. Dr. Paul Croll has the answers to today's questions. If you know someone you'd like to see profiled, send his or her name and a note to sharenews@augustana.edu.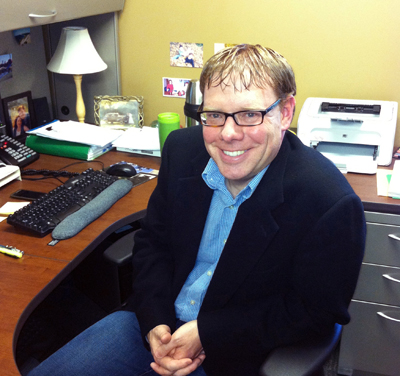 Dr. Paul Croll, Assistant Professor of Sociology (Photo/Scott Cason)
1. You left a career as a research specialist in the private sector in 2007 to become a professor here at Augustana. Why?
It actually started back in 1998 when I decided to get my PhD in sociology while continuing to work in the private sector. At the time, I looked around the place I worked, sitting in my cube, and decided I did not want to spend my life in corporate America. I was fortunate to be able to go to grad school and still work full-time. It took a number of years to finish, but it got me out of the private sector and into academia. Looking back, I have no regrets. I love what I do, that is something not everyone in the private sector can say. I love teaching and I love my research. Augustana is a great place to be. I also find I can often bring my private sector experiences into the classroom to help students prepare for careers after college.
2. As a sociology professor, your research and teaching focus on attitudes and beliefs about race in America. How did your interests and life experiences influence your decision to engage in this area of study?
I grew up in a very white, suburban town in Metro Detroit. I pick on my students here at Augustana who grew up in these places in part because that was my experience as well. I was always concerned about inequality, but it was not until college that I realized how inequality affected me. The realization that inequality benefits me, that as a white male I benefit when women and minorities are mistreated, hit home with me and made me rethink how I looked at social problems and inequality. I realized that the best way for me to fight against inequality and work toward social justice was to attack it from the side of privilege. When the white kid says, "Hey, I'm not racist, it doesn't affect me" I ask them if they are privileged, if being white has ever been an advantage. That leads to a very different answer.
3. Describe the kind of student who does well in one of your classes.
Students who are not afraid to speak up in class, who get excited about we are studying, who make connections about my classes and life outside of the classroom. I know I am doing something right when my students tell me they are arguing with their friends and family more than they used to. In my classes we talk about real social problems and injustices. I know that if my students take this seriously, it will seep into their lives outside of the classroom. Students also have to be prepared to work.
4. Your wife, Anna Kronenberger, hosts a radio show on parenting on WVIK, Augustana's public radio station. Does she use you as an example on how to, or not to, parent?
No, definitely not. However, I think she does take the challenges we have faced over the years as parents and uses them to think about topics to cover on her show. She does an amazing job with the show and it is a phenomenal resource for parents in the Quad Cities. I certainly am not a perfect parent, not even close. But I do try, and more importantly, I am always trying to do better.
5. You were recently invited to attend something called a "RAIN" meeting at Harvard.
What was that about?
I was invited to attend a Racial Attitudes and Identities Network (RAIN) meeting this fall at Harvard. The meeting was a workshop with about twenty other race scholars from across the country, primarily sociologists and political scientists. We spent three days together each presenting our current work and getting feedback from each other. I presented work on white privilege, white identity, and Americans' explanations for racial inequality. I got fantastic feedback and ideas about my own work and was able to share my ideas about others' work as well. It helped me make connections with other scholars in my field and we are already talking about ways to collaborate together in the future.
Additional Five Questions Interviews